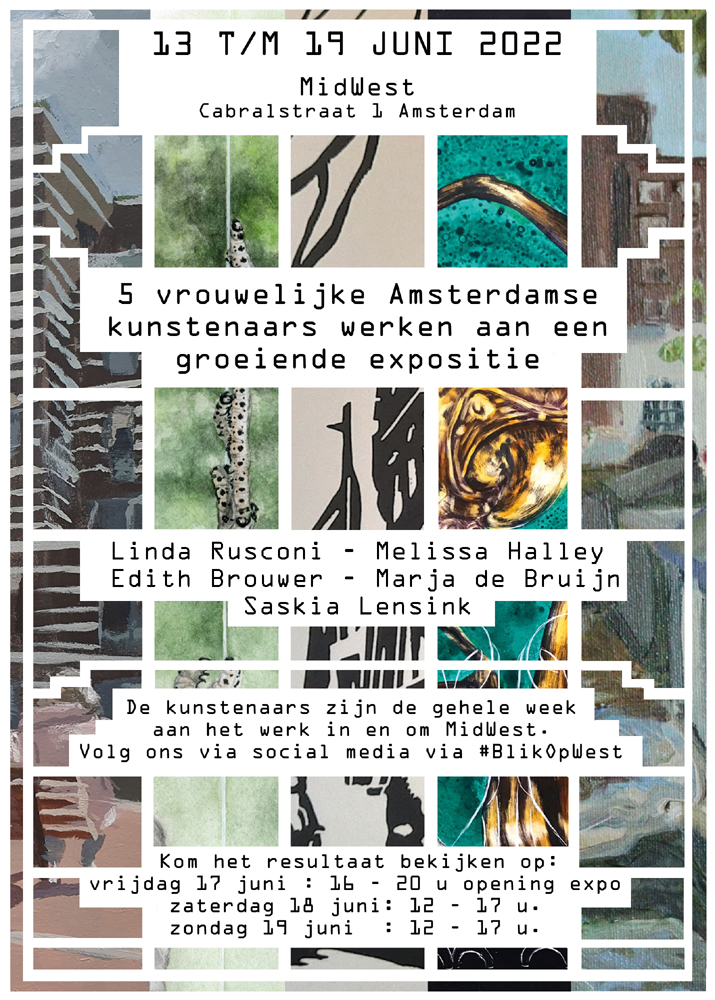 From Monday June 13th to Sunday June 19th I'll be participating for the third time in a
beautiful project with these wonderful ladies: Linda Rusconi, Edith Brouwer,
Saskia Lensink and Marja de Bruijn.
From June 13th to June 19th we will be drawing/ painting/ printing at, and in the vicinity
of, 
MidWest, Amsterdam.
Every day we add our new work to the walls of our rented space at MidWest.
You can follow our progress on Instagram by following #BlikOpWest 👩🏻‍🎨
We're open from:
Friday June 17th 16.00 - 20.00 (Opening!)
Saturday June 18th 12.00 - 17.00
Sunday June 19th 12.00 - 17.00
Since my health is still not what it should be I'm not sure I'll be able to be there all days/
the whole day so please contact me when you want to visit and see me, at

Dit e-mailadres wordt beveiligd tegen spambots. JavaScript dient ingeschakeld te zijn om het te bekijken.
MidWest
Cabralstraat 1
1057 CD Amsterdam