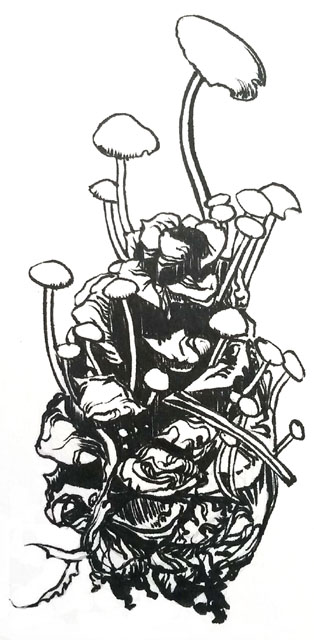 From a very early age I knew I wanted to continue drawing when I grew up, I just never ever wanted to stop and I didn't. My art always has been a way to communicate, show, share.
As for drawing materials I use a wide range, I love working with Derwent colouring pencils, Schmincke pastels but also use all kinds of ink like bistre. At the academy I got introduced to techniques like etching, linocut etc. Thanks to my studio at Grafisch Collectief Thoets I was able to continue these techniques.
Since 2013 my art is about the beauty, horror, fragility and finality of life. The one cannot exist without the other. Life and death, they have a hold on each other, twist and turn around one another, they are one.
First flowers became the embodiment of this theme, then insects joined in and recently all ingredients from the (long) past came together to tell my story.
In flowers particularly the last stage of blooming interests me. Especially when flowers become translucent, start to wrinkle and twist themselves in curious shapes and doing so turn into different persona.
To me the step from flower to insect is easily made. Their lives are often entwined and insects too have (at least in my mind) a fragility to them. I can marvel at their complexity, ability to fly, beautiful wings and armour. I can be moved by the soft furriness of the bumblebee but at the same time insects scare me. Because of their fragility, because they pop up unexpectedly with their frightening little faces, tickling, biting, stinging.