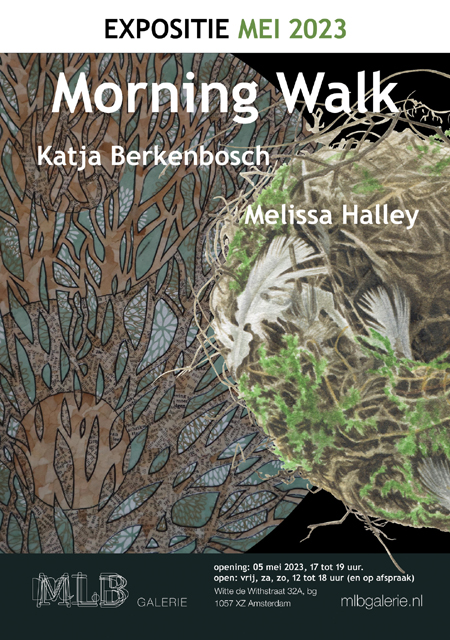 This May my friend and fellow artist Katja Berkenbosch and I will exhibit our latest work at


MLB Galerie

for a second time. The first time took place in October 2020.
It was a very special experience to notice how our art interacted with not only the visitors of
the exhibition but also with each other.
Shortly after the start we knew we wanted to exhibit together more often.
For our second exhibition together we came up with a very appropriate title: Morning Walk.
Appropriate beaouse we both find inspiration during our morning walks.
Katja Berkenbosch and Melissa Halley; two different artists who show very different disciplines;
watercolour and paper art.
What they share - in addition to friendship - is an eye for detail, that which is vulnerable and
a connection with and longing for nature.
Katja and Melissa met at Artplein Spui where they showed their art, a friendship grew, as well
as recognition and a deepening interest in each other's work.
----------
Exhibition Morning Walk can be visited throughout the month of May. The gallery is
open on Friday, Saturday and Sunday (and by appointment).
During the entire exhibition, Katja and Melissa are present at the gallery on Saturday and
Sunday.
If you want to see Katja and / or Melissa on one of these days, it's best to let us know up front.
It's always possible that one of us has to leave a little earlier 😉
We look forward to seeing you at:
MLB Galerie
Witte de Withstraat 32A
1057 XZ Amsterdam

Opening: Friday May 5th 17.00 - 19.00 hours

Open: Friday, Saturday and Sunday from 12.00 - 18.00 hours (and by appointment)
Add a comment
Details

Hits: 354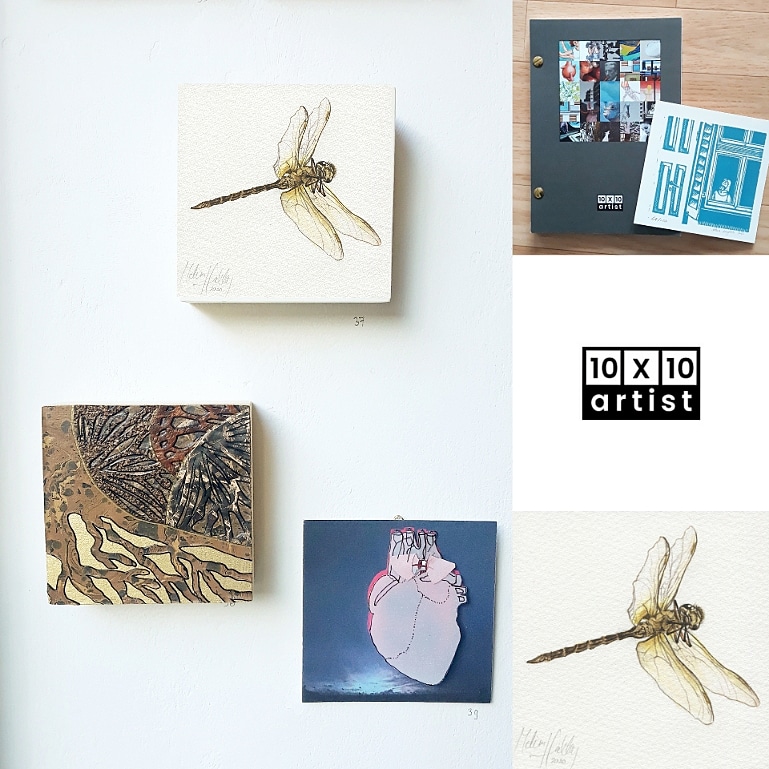 This dragonfly is one of 6 artworks I exhibit at the gallery.
In total there are almost 80 artworks part of the exhibition!
The newly published book of 10x10Artist is also available at the gallery.
The book includes all participating artists + young artist Valeria Vangelista who made a special linoprint that comes just with the book.
You can purchase the book & print for only € 20,-.
Gallery De Stoker is open every weekend from 12.00 to 17.00 hours.
Last day to visit the exhibition: Sunday December 4th.
10X10Artist is an art project by gallery Atelier Open.
10X10Artist offers a varied selection of artworks by Dutch and International artists. The size of all the art is the same: 10×10 cm.
Add a comment
Details

Hits: 277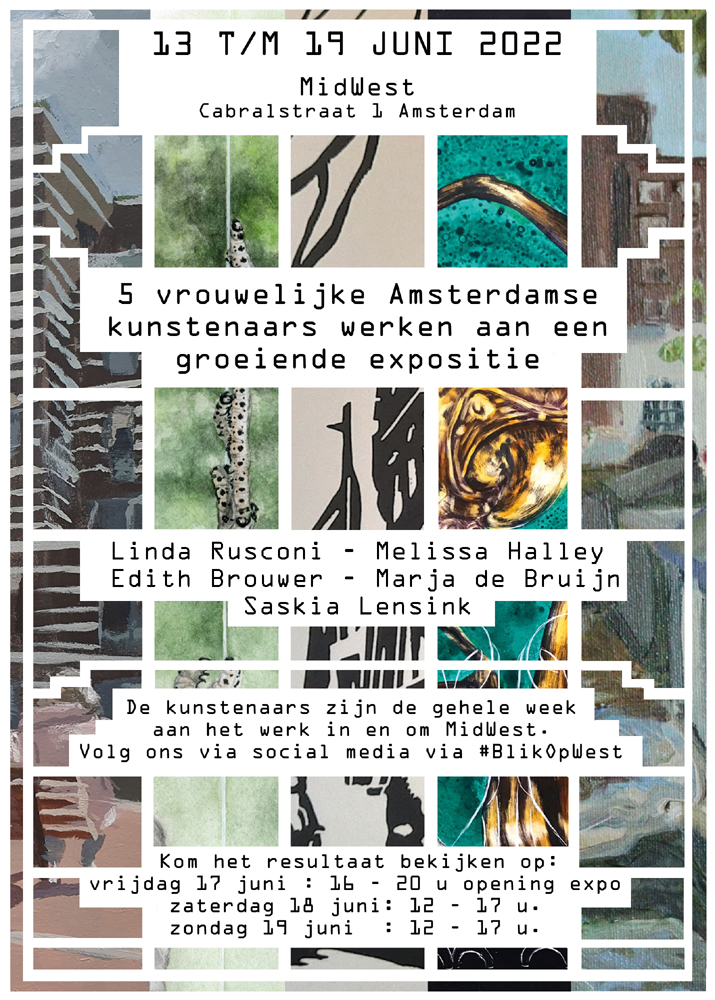 From Monday June 13th to Sunday June 19th I'll be participating for the third time in a
beautiful project with these wonderful ladies: Linda Rusconi, Edith Brouwer,
Saskia Lensink and Marja de Bruijn.
From June 13th to June 19th we will be drawing/ painting/ printing at, and in the vicinity
of, 
MidWest, Amsterdam.
Every day we add our new work to the walls of our rented space at MidWest.
You can follow our progress on Instagram by following #BlikOpWest 👩🏻‍🎨
We're open from:
Friday June 17th 16.00 - 20.00 (Opening!)
Saturday June 18th 12.00 - 17.00
Sunday June 19th 12.00 - 17.00
Since my health is still not what it should be I'm not sure I'll be able to be there all days/
the whole day so please contact me when you want to visit and see me, at

This email address is being protected from spambots. You need JavaScript enabled to view it.
MidWest
Cabralstraat 1
1057 CD Amsterdam
Add a comment
Details

Hits: 904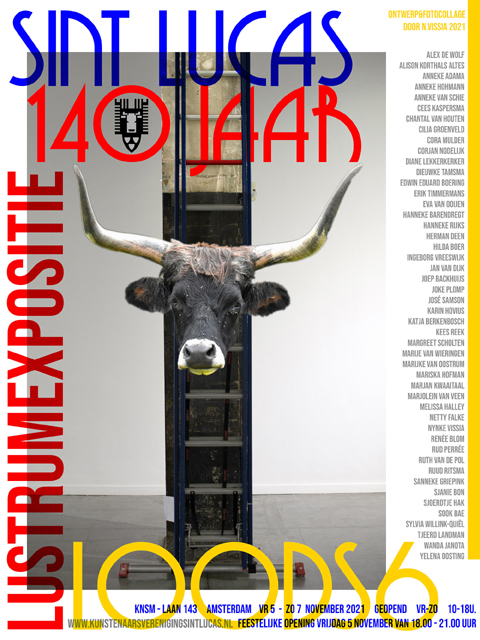 From Friday November 5th to Sunday November 7th Kunstenaarsvereniging Sint Lucas
exhibits at Loods 6 Amsterdam.
Visit us at:
Loods 6
KNSM-Laan 143
1019 LB Amsterdam


Opening: Friday November 5th 18.00 - 21.00 hours
Regular opening hours: Friday to Sunday 10.00 - 18.00 hours
Add a comment
Details

Hits: 1407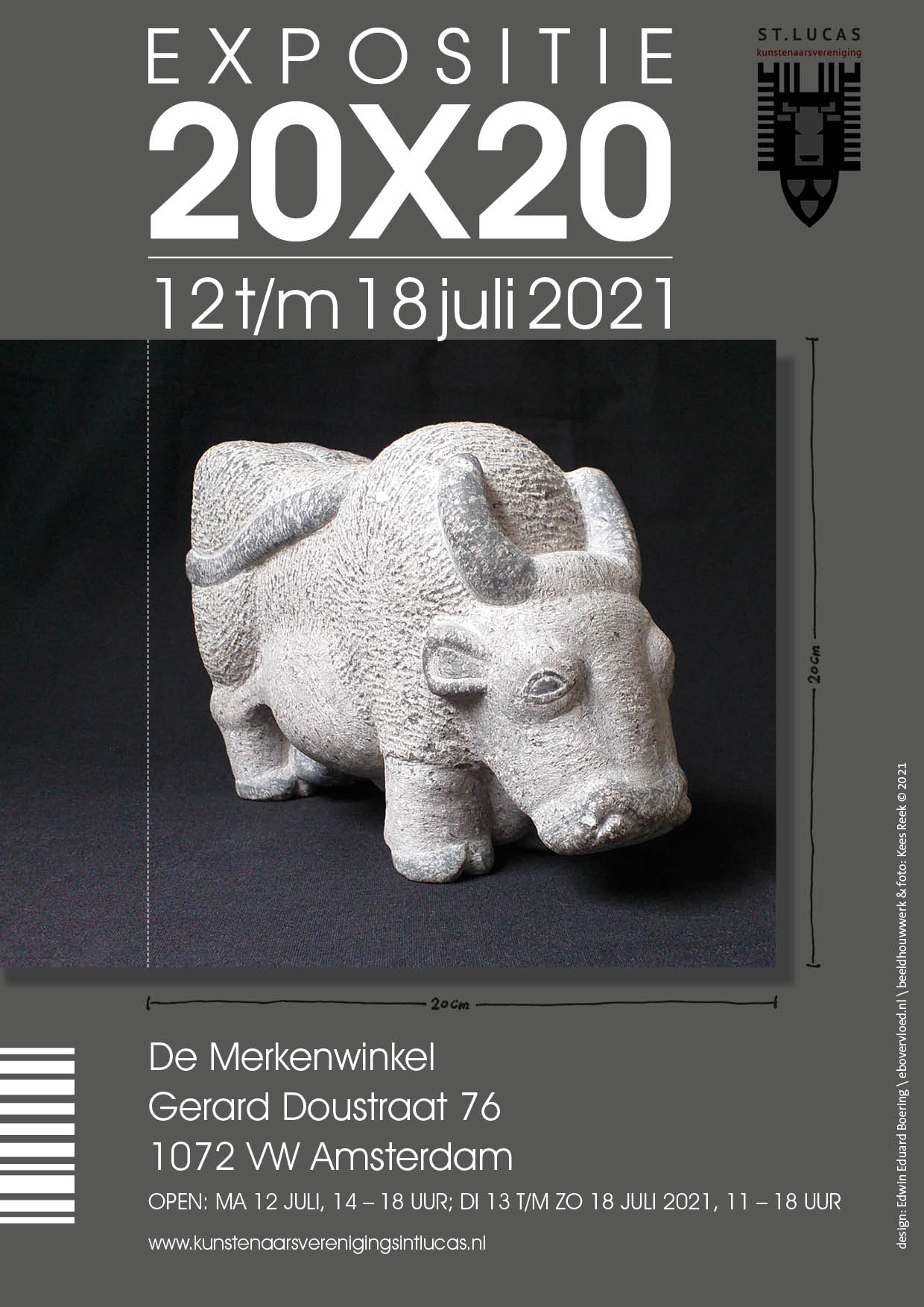 From Monday July 12th to Sunday July 18th Kunstenaarsvereniging Sint Lucas exhibits at
De Merkenwinkel Amsterdam.
All art has the specific size 20x20(x20) cm.
Visit us at:
De Merkenwinkel
Gerard Doustraat 76
1072 VW Amsterdam
Open:
Monday July 12th 14.00 - 18.00 hours
Tuesday July 13th to Sunday July 18th 11.00 - 18.00 hours
Participants:
Hanneke Barendregt, Katja Berkenbosch, Edwin Boering, Herman Deen, Jan van Dijk,
Sjoerdtje Hak, Melissa Halley, Anneke Hohmann, Chantal van Houten, Wanda Janota,
Cees Kaspersma, Tjeerd Landman, Diane Lekkerkerker, Cora Mulder, Marijke van Oostrum,
Rud Perree, Joke Plomp, Ruth van de Pol, Hanneke Rijks, Erik Timmermans,
Marjolein van Veen and Alex de Wolf.

Add a comment
Details

Hits: 1605