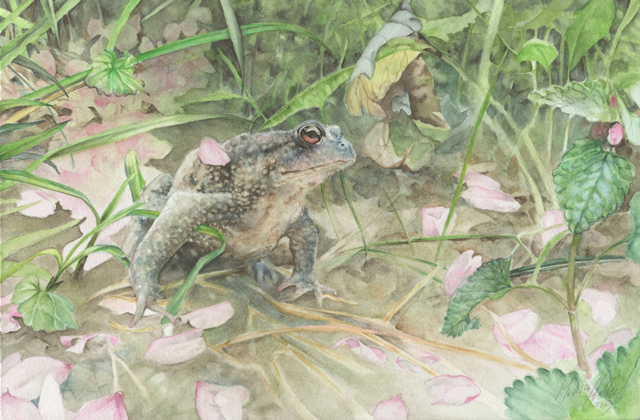 Toad with Cherry Blossom Petals, 2018, watercolour, mounted paper on wood, 20 x 30 cm

This January I wrote a blog about mounting watercolour paper on a wooden panel.
In February I wrote a blog about how I had started painting on the panel and now in March
I'm writing another a blog about the panel letting you know it's finished.

Last year I made 5 watercolour miniatures on Ampersand encausticbord. In 2016 I made my
Flower Portrait series which were a combination of bistre with sometimes ecoline
or watercolour. In the past I've been drawing in bistre a lot but always combining bistre with
Indian ink, soft pastels or Derwent Inktense pencils.
This toad is my first detailed watercolour project of this size (20 x 30 cm) and I loved
every moment working on it.

Sure, there were moments of procrastination when I was nervous about how to go on but it
got never frustrating.
Working on this project I fell in love with the medium of watercolour (combined with the
paper being mounted on a hard surface) so you will see plenty more in the near future!