February 10th, 2014
Last Saturday I went to Teylers Museum in Haarlem to see the exhibition
'The Romantic Soul, Paintings from Russia and the Netherlands'.
Teylers Museum on their exhibition:
"Towards the end of the 18th century, Europe witnessed the advent of a new
cultural movement, in reaction to the prevailing coolness of classicism:
Romanticism. Gone was the supremacy of Reason.
Romantic art gave precedence to emotions, intuition, spontaneity and imagination.
With imminent shipwrecks, oaks split by the force of nature, awe-inspiring sunsets,
or at times tranquil interiors and sensitive portraits, artists in all parts of Europe
conveyed their emotional responses."
It was very interesting to see the similarities and differences between Russian and Dutch art
of that time.
You can visit the exhibition until May 25th 2014.
I enjoyed myself at 'The Romantic Soul' but then I stumbled into the exhibition about
Willem Hofker, which impressed me maybe even more.
Willem Hofker (1902-1981) made really beautiful, delicate drawings. Sometimes you
can see the artists love for the subject and Hofker is a good example of that.
Next to drawings Teylers Museum shows a small collection of etchings and lithographs.
Most of Hofkers work show Balinese women/ dancers.
Willem Hofker and his wife moved to Bali (Indonesia) in 1936. During the Japanese
occupation in WW 2 they were both put in internment camps (separately).
Still Willem Hofker managed to keep drawing and this gives us a very interesting view into
camp life. You can visit the exhibition until March 9th 2014.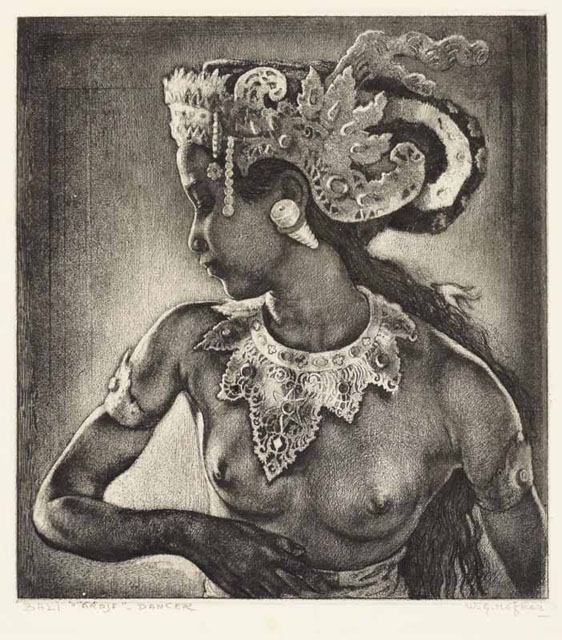 Willem Gerard Hofker
Ni Asoeg in Ardja, 1946
Aquatint Etching
27,5 x 25,5 cm