January 9th, 2014
A little while ago I found this small moth in my windowsill. It was just sitting there, as if it was
still looking out of the window. Mournful about not being able to get outside and looking at the
setting sun one more time… At least, that was the story that popped into mind when I found
the poor little critter.
Not sure what I was going to do with it I saved it in a little box. I found more and bigger moths
and saved them too in somewhat bigger boxes.
As you can see I ended up drawing them. For some reason the step from drawing flowers
(blooming or dried up) to these insects was very logical. They have a resembling fragility that I
find intriguing and feel compelled to draw.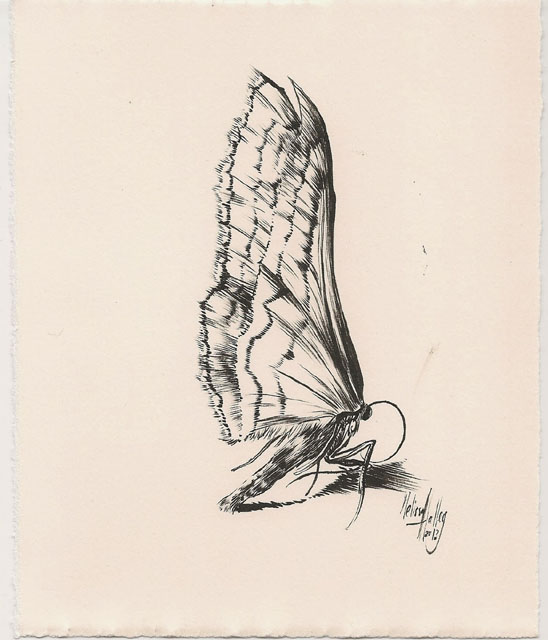 Add a comment
Details

Hits: 592
January 8th, 2014
After doing lots of little drawings in and out of my sketchbook I thought I needed to grow a
little. This is a bigger drawing of a vase of tulips, or actually a tulip. There were more but I
took the liberty to cut them out of the drawing. I completely fell in love with this one tulip and
even more with the beautiful curves the leaves are making.
Dying they look more alive than ever!
The size is 38x55 cm, still not that big but I would like to make them huge. Very curious
where this is going to take me.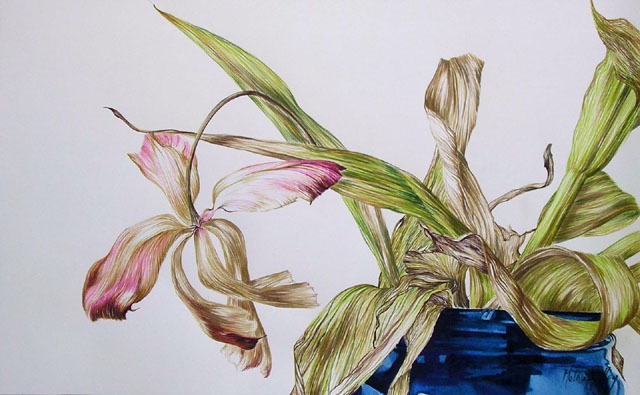 Add a comment
Details

Hits: 627
January 7th, 2014
Yesterday I picked up the key to my new, shared studio at Retort Ateliers. I will be sharing
a space with my good friend Nanette Kraaikamp and I'm really looking forward to  this collaboration.
Nanette and I both studied at the Academy of Fine Art in Education in Amsterdam. Only after
raduating and bumping into each other years later we became friends. As we both are artists
we talk a lot about (our) art, ideas and art related troubles. When one of us gets a bit
disillusioned, talking about it makes us feel better and ready for the next hurdle in our studio.
Since 2013 we made these talks monthly, keeping each other in check and on the right track.
Together with 6 other artists I also share a studio called Grafisch Collectief Thoets, it's
specialized in graphical techniques such as etching, lithography and silkscreen printing.
I won't be leaving Thoets, I like printing and my colleagues too much to leave. I hope the
addition of Retort Ateliers and working in the same space with a good friend will generate
lots of inspiration and new art.
When Nanette and I stepped out of the studio to have a cup of coffee and hot chocolate a
beautiful rainbow appeared. It stood in front of us like an arch only fading when we were about
to go inside and enjoy our hot drinks. I think this new adventure can't go wrong :)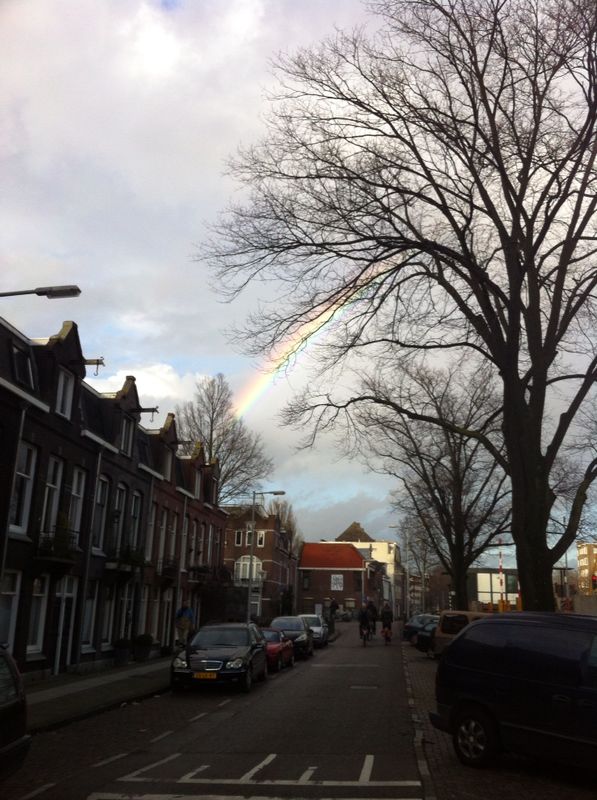 Add a comment
Details

Hits: 647
December 27th, 2013
As far as my flower-theme goes this is one of my first drawings in colour. I wanted to
maintain the linear way of shading that I used in my previous black& white drawings.
Materials I used are bistre and Stabilo woody 3 in 1 pencils. These can also be used as
watercolour pencils. Because the lines are too bulky for the result I was going for I
used them as a paint. I dipped my wet brush onto the pencil until it had infused enough
colour to paint with.
The flowers you see here are tulips. Just like the orchids I did before, after blooming
they turned into complete different creatures.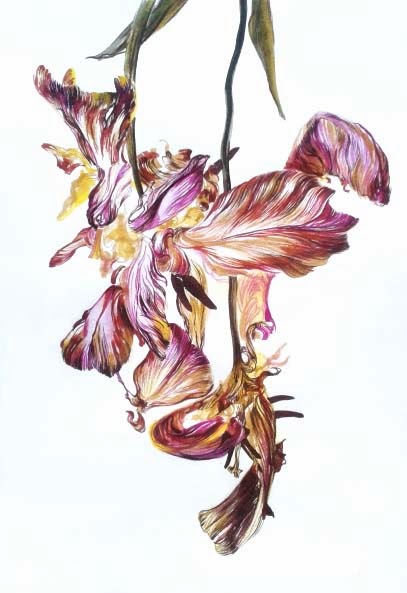 Add a comment
Details

Hits: 690
December 24th, 2013
Then it got time to move out of the sketchbook and into the open.
Because I use Indian ink (and bistre) I like using Saunders Waterford watercolour paper.
Even when the package says 'white' it has a creamy colour and very little grain, the latter
making it perfect for detailed work.
The orchids bellow have had their blooming time and have completely dried out. The shapes
they take on are very beautiful to me. Like I said before, they take on a different persona.
Blooming they were all looking pretty much the same, now they are their own person.

Add a comment
Details

Hits: 676