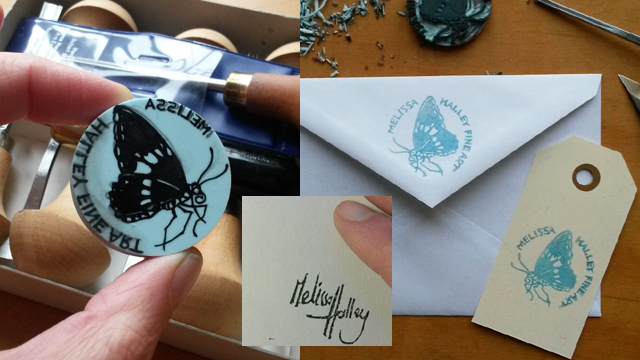 This is the first time in two years I'm not doing a 30 in 30 project in January.
The 30 Paintings in 30 Days Challenge by Leslie Saeta is postponed to February but I don't
think I'll participate this time.
The last two years December and January were very hectic. Planning, preparing, making,
posting, it was fun and I learned a lot but it was also very trying because it would take place
during the Christmas holidays when my boyfriends' son would be with us. With me
ending up not being able to do fun stuff with them or work long hours one day to work ahead
and have fun the next.
This year I really enjoyed the downtime during the holidays and I'm planning to make my art
in a more relaxed setting and listen to my gut because I was just stressed all the time.

Still, doing nothing is hard so I made some small projects. I cut a brand stamp and also a
name stamp in my own handwriting. Can't wait to use these on new projects and shipments.

I do have some plans for the next few months but I either just started or am still in the
experimental phase so more on that soon.