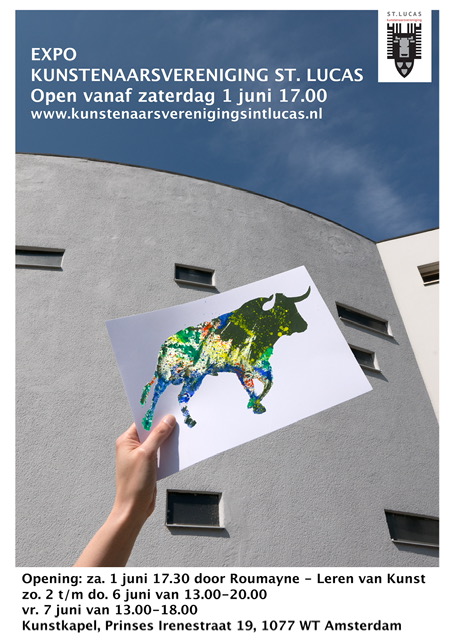 The member exhibition of Kunstenaarsvereniging Sint Lucas will take place from June
1st through June 7th 2019 at the Kunstkapel.
The opening will be performed by Roumayne Schepers (Leren van Kunst) at 17.30 hours.
The doors are open from 17.00 to 20.00 hours.

Participating artists:
Anneke Adama, Sook Bae, Katja Berkenbosch, Jeroen Bijl, Herman Deen, Jan van Dijk,
Sanneke Griepink, Cilia Groenveld, Sjoerdtje Hak, Melissa Halley, Chantal van Houten,
Wanda Janota, Cees Kaspersma, Tjits van der Kooij, Alison Korthals Altes, Tjeerd Landman,
Diane Lekkerkerker, Eva van Ooijen, Rud Perrée, Joke Plomp, Kees Reek, Hanneke Rijks,
Ruud Ritsma, Marjolein van Veen & Alex de Wolf.
I'm looking forward to see you on one of the days below:

Saturday June 1st 17.00 - 20.00 hours
Sunday June 2nd to Thursday June 6st 13.00 - 20.00 hours
Friday June 7th 13.00 - 18.00 hours
De Kunstkapel
Prinses Irenestraat 19 (above restaurant As)
1077 WT Amsterdam, Beatrixpark