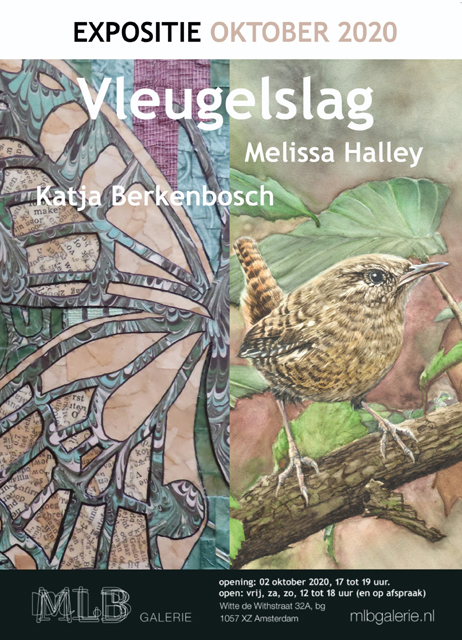 This october my friend and fellow artist Katja Berkenbosch and I will exhibit our latest work.
Katja Berkenbosch and Melissa Halley; two different artists who show three different
disciplines; watercolour, linoprints and paper art.
What they share - in addition to friendship - is an eye for detail, that which is vulnerable and
a connection with and longing for nature.
Katja and Melissa met at Artplein Spui where they showed their art, a friendship grew, as well
as recognition and a deepening interest in each other's work.
Both are members of the Sint Lucas Artists Association.
However, the Vleugelslag exhibition at MLB Gallery is the first time they will exhibit their art
together.
----------
The Vleugelslag exhibition can be visited throughout October. The gallery is open on
Friday, Saturday and Sunday (and by appointment).
During the entire exhibition, Katja and Melissa are present in the gallery on Saturday and
Sunday.
If you want to see Katja and / or Melissa on one of these days, it's best to let us know up front.
It is always possible that one of us has to leave a little earlier 😉
----------
Unfortunately due to covid-19 we can't have more than 6 guests at a time during the opening
on Friday October 2nd. 
That's why we decided to work with time slots of one hour during the opening.
Would you like to come by on October 2nd? Please let us know in time will reserve you a spot.
We look forward to seeing you at:
MLB Gallery
Witte de Withstraat 32A
1057 XZ Amsterdam

Opening: Friday October 2nd 17.00 - 19.00 hours

Open: Friday, Saturday and Sunday from 12.00 - 18.00 hours (and by appointment)