October 14, 2014
Really didn't want to do any of the chores I planned for today. So I went out to give myself a treat!
I went to Van Beek Art Supplies and bought myself some new Derwent pencils, which I love
since Karisma was taken out of the shops in the Netherlands. I already have some Derwent
Coloursoft to replace the Karisma ones and later I bought some Derwent Inktence. But
now I thought I was in need of some pastel pencils and next to that I found the Derwent
Graphitint of which I bought five.
To finish everything nicely I bought a nice pencil wrap to put them in and I'm ready to go :)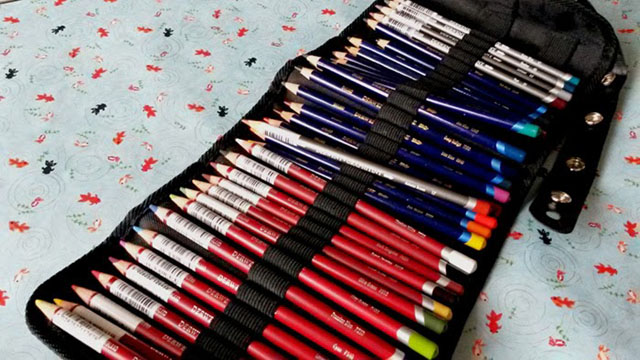 Add a comment
Details

Hits: 4610
October 7th, 2014

Estate Heidestein, Bornia, Driebergen-Rijsenburg, The Netherlands
Add a comment
Details

Hits: 3733
September 30th, 2014
'Another book?!' my boyfriend exclaimed when I stopped by at the ABC, the bookstore where
he works, and I bought Art Inc. - The Essential Guide for Building Your Career as an Artist by
Lisa Congdon. 'You should be drawing instead of reading!'
And he's right, I should be drawing more than I am now but this book was a really good read!
Lisa Congdon is known for her art, illustrations and hand lettering. She exhibits. She has
multiple big clients, a popular blog called Today is Going to be Awesome and written 3 books
including this one. So I thought she might have something useful to say about the matter.
Congdon covers lots of things artists may struggle with. The first chapter is called
You Are an Artist, where she tells you to embrace being an artist. Then follow things like
building your vision and goals, branding your business, organizing time, all the different ways
to promote your work, making digital prints, how and where to sell your art, having
exhibitions, how to deal with galleries etc. All this is illustrated by her own experience and 14
interviews with people who are working in the art business, either as artists or differently.
What it comes down to, making it in this business, is really hard work and investing lots
of time and energy and not to forget the occasional money. Some issues like law-related
things you should check with the country you live in but apart from that I think that if you're
not quite where you want to be as an artist this book could be of great help.
Read this book!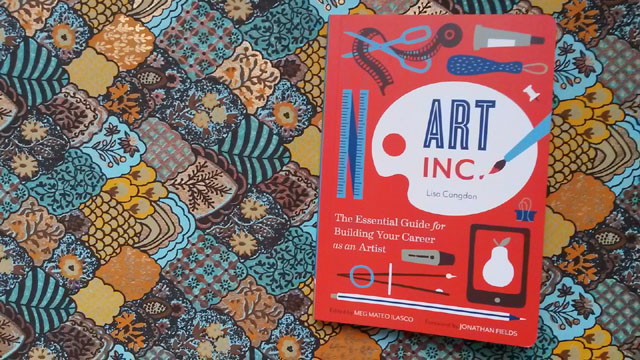 Add a comment
Details

Hits: 3267
September 23rd, 2014
The beginning of a new brainchild. About the beauty of the night, colours and sounds,
rustling treetops and flying critters.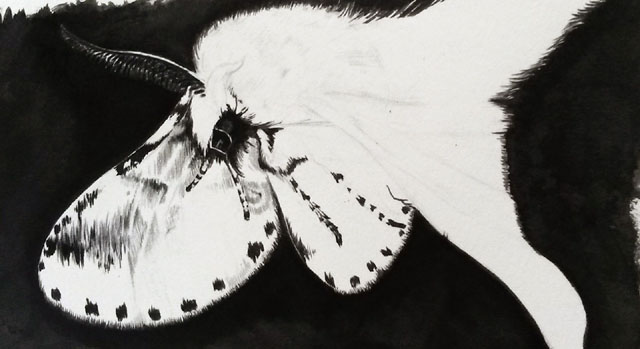 Add a comment
Details

Hits: 3510
September 16th, 2014
About a month ago I stumbled upon the article 'Rorschach Test for Doodlers' on the website
'Doodlers Anonymous'. The idea is simple, just spatter some ink or paint between your
sketchbook pages, close it, rub it a bit and open to admire the spatter result. Most of the time
our mind will turn these spots into bats, butterflies etc. The challenge is take it a step further.
So I tried and I liked doing these pages so much that for the last couple of weeks I start all my
drawing days like this! Not having any control on what will happen on the pages suits me perfectly.
Here's one I did recently: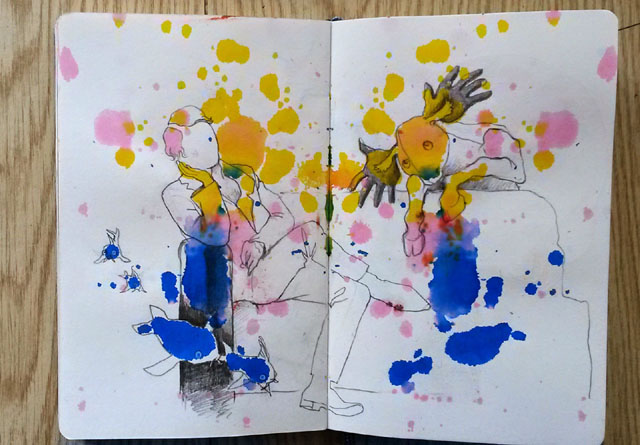 Add a comment
Details

Hits: 3626