September 23rd, 2014
The beginning of a new brainchild. About the beauty of the night, colours and sounds,
rustling treetops and flying critters.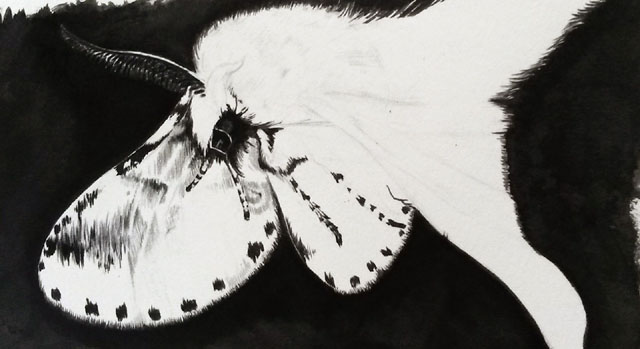 Add a comment
Details

Hits: 2891
September 16th, 2014
About a month ago I stumbled upon the article 'Rorschach Test for Doodlers' on the website
'Doodlers Anonymous'. The idea is simple, just spatter some ink or paint between your
sketchbook pages, close it, rub it a bit and open to admire the spatter result. Most of the time
our mind will turn these spots into bats, butterflies etc. The challenge is take it a step further.
So I tried and I liked doing these pages so much that for the last couple of weeks I start all my
drawing days like this! Not having any control on what will happen on the pages suits me perfectly.
Here's one I did recently: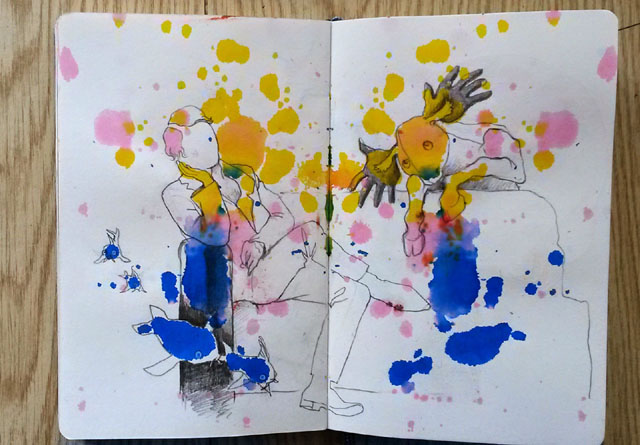 Add a comment
Details

Hits: 3037
September 9th, 2014
A few months ago I bought Creative Block by Danielle Krysa a.k.a. The Jealous Curator and
I'm very glad I did! First I had my doubts. Again and again I would go to the American Book
Center, stare at the book and wonder: 'Was this just another self-help book or…' I was flipping
through the book once more when my eye caught a sentence that made the buy a sure thing:
'Do you ever equate your self-worth with your artistic successes?'
Guilty! My self-worth has been entwined with my art since a very early age. Not a smart thing
to do but hey, what do you do?
Danielle Krysa interviewed 50 successful artists and asked them about the way they work, why
they make art, where they find inspiration but also:
- Which artist's work / life/ career are you most jealous of and why?
- Does your inner critic ever get to you?
- What do you do when you're feeling blocked?
Every interview consists of more or less the same questions with very different answers.
At times recognisable and at times not at all. Funny and good to know there are so many
ways to look at this art-thing. All 50 interviews end with a creative unblock project by the
interviewee.
Another word that stuck was 'process'. Different artists would say process is what
drives them to continue making art, not the end-product or the success. This made me re-think
my own process and I concluded that I skip some very important steps.
This book is a fun read, good questions, funny and helpful answers. Next to that it's filled with
really beautiful pictures of the artists artwork.
Buy this book!
Please don't forget to check www.thejealouscurator.com and learn why Danielle Krysa calls herself that.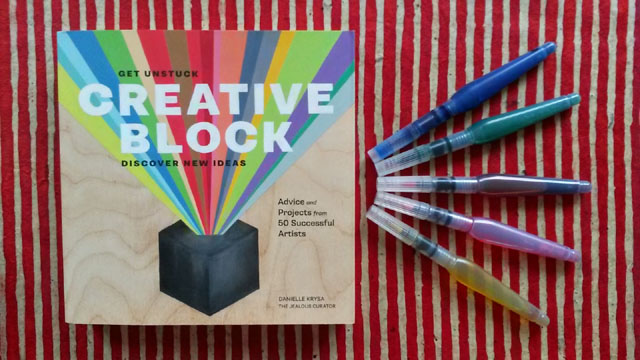 Add a comment
Details

Hits: 2954
September 2nd, 2014
Okay, I haven't been doing things like I promised or set out to do. For one I haven't
written in 2,5 months and I planned to write at least once a week! What upsets me most is that
I wasn't able to continue writing when things (artwise) sort of fell apart.
I meant to share these things on my blog but when things got rough I couldn't. The last few
months I had some really important insights but alas, they didn't come with a handy how to-
guide. Two words that had great impact were 'process' and 'ego'.
My process is, or hopefully was, almost non-existing, probably the reason why I lose interest
and fun in a subject so quickly. It's been a rough period and I hope that's finished now.
Upcoming weeks I will let you know more about my findings from the past months and my start
of a new chapter in art.

Add a comment
Details

Hits: 4091
June 16th, 2014
A few weeks ago Lemniscaat pronounced the winners of the illustration contest and I wasn't
among them. I anticipated this so no worries. I'm happy I found out so much about myself
during the (creative) process.
The whole experience left me with one more very practical surprise. Even after working such
long hours at the time I was still able to draw. My hand did not hurt like it would have in the past!
In 2008 I injured my hand (mostly my thumb) after a rush job and I neglected to give my hand
a good rest. For about a year I couldn't do anything. Writing, drawing, even holding a book
during reading was a challenge.
Over time things got better but I still couldn't work long hours, I had to stop all printing
activities and I switched from pencil and pastels to drawing inks. While I was working on
the illustrations my hand would hurt after a long day in the studio but then I would give my hand
a rest for a day and it was fine again!
So now new ideas are bubbling up in my head, I will be able to mix inks with pastels, pick up my
pencils again! Yay! I worked with this mix before but at the time it was too soon and sure I
have to be careful not to overdo it again but this prospect makes me very happy.
Last week I went to Van Beek, my local art supply shop and I found a pencil extender by Derwent.
I'm not going to use it to extend my pencils but to broaden my pencils. A broad grip lessens the
chance of injury because it is more relaxed to hold. Thursday is studio-day, I can't wait!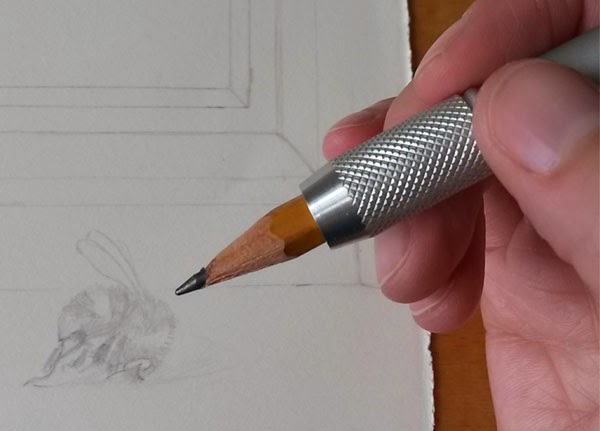 Add a comment
Details

Hits: 3102