January 22 nd, 2014
You might wonder: 'What are these monsters?! What happened to the cute, lovely bees!?!'
Well, they are still in the planning but I had to do these first. These are Phasmatodea,
commonly known as stick insects, walking sticks or stick-bugs. This particular kind is
called Heteropteryx Dilatata PSG 18. They were part of a terrarium that was getting
overpopulated.
For me this was a very good lesson in getting over my fear of insects. As you probably know
insects usually fold their legs across their body when they die. So first thing I had to do before
drawing was wait for them to defrost, then very carefully bend their little legs back to positions
that would look natural and leave them to dry (out). I have to confess I used tweezers. I got
the Phasmatodea through my friend and fellow artist Katja Berkenbosch. She makes wonderful
aper art and often uses butterflies in her artwork.
While drawing the Phasmatodea I completely fell in love with their 'armour' and despite of it
would find the same vulnerability I found in the bumblebee, moths and flowers. Especially
when I realized that the biggest specimen I had (5 cm) was starting to develop wings. Wings
that would never grow and take it anywhere. Next to that I realized I had drawn it as big as it
could have gotten had it reached adulthood.
Still pondering colour...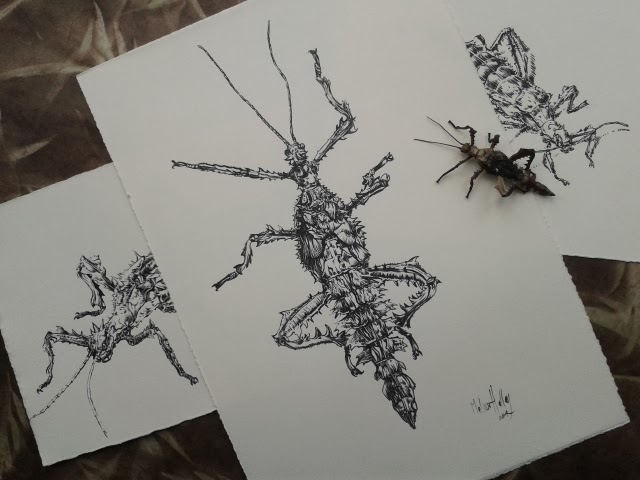 Add a comment
Details

Hits: 3570
January 17th, 1014
And this is how I'm able to do such detailed drawings of tiny insects.
As I understand it it's actually a magnifying-tool for soldering. It has two pincers to hold stuff
that I folded in so they're not in my way.
This apparatus is a really big help when you're subjects are very small! :)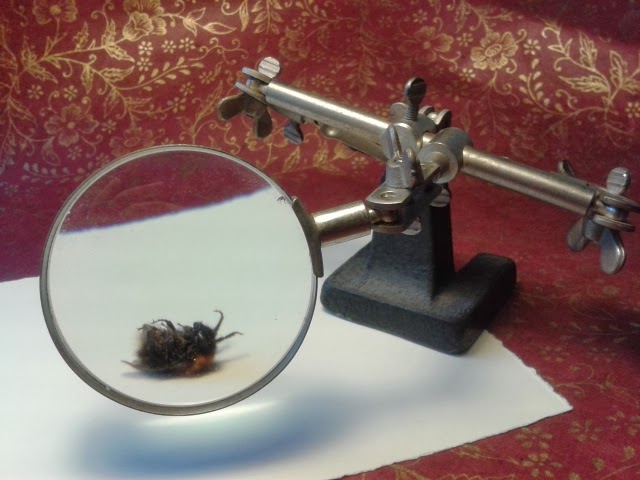 Add a comment
Details

Hits: 2792
January 15th, 2014
After three bumblebee-drawings I realized I had only drawn this (former) flying beasty on its
back with its legs up in the air. How about those wings?!
And how beautiful they are. So much detail, such beautiful reflection and shininess, how
were these delicate slivers of 'paper' ever able to keep this bumblebee up in the air?
All my drawings up to now of the found insects have been in Indian ink (on Saunders Waterford
watercolour paper) but I would like to add some colour too.
Back to the drawing board!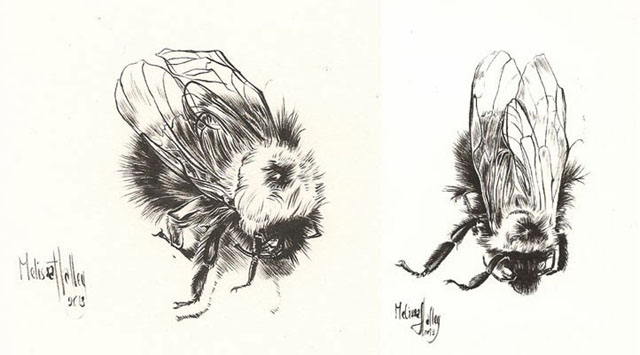 Add a comment
Details

Hits: 2822
January 14th, 2014
When my home wasn't my home yet and up for rent I immediately fell in love with the big,
broad windowsill. I could picture myself sitting there, reading and drawing on top of a huge
pile of pillows.
This is where I found the little moth I enjoyed drawing so much. Occasionally I find other
bugs there. Still alive they are set free, if not they end up being drawn by me. Buried beneath
my huge pile of pillows I recently found a beautiful bumblebee. Just like the moth very
dramatic, with two little legs stretched out into the air as if to bid a final farewell.
I have to confess my feelings towards insects are a bit ambiguous. They are useful, beautiful
and can even be cute but they creep me out at the same time. While drawing this bumblebee
time after time, I was captivated by its beauty, detail, soft hair and wings but sometimes I
would feel shivers go down my spine.
In the near future I want to do something with this ambiguity towards insects but I'm still
brooding on the how and what. To be continued :)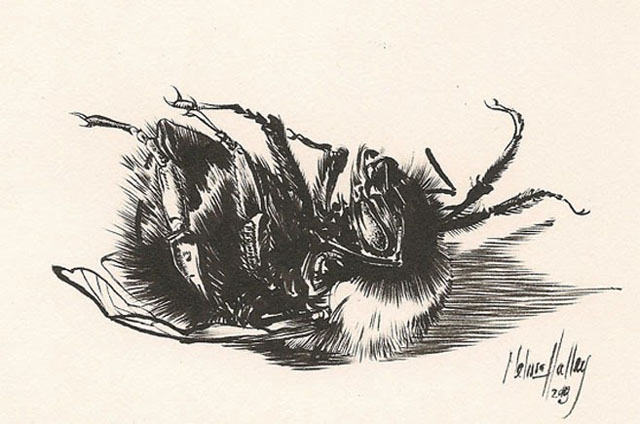 Add a comment
Details

Hits: 2834
January 9th, 2014
A little while ago I found this small moth in my windowsill. It was just sitting there, as if it was
still looking out of the window. Mournful about not being able to get outside and looking at the
setting sun one more time… At least, that was the story that popped into mind when I found
the poor little critter.
Not sure what I was going to do with it I saved it in a little box. I found more and bigger moths
and saved them too in somewhat bigger boxes.
As you can see I ended up drawing them. For some reason the step from drawing flowers
(blooming or dried up) to these insects was very logical. They have a resembling fragility that I
find intriguing and feel compelled to draw.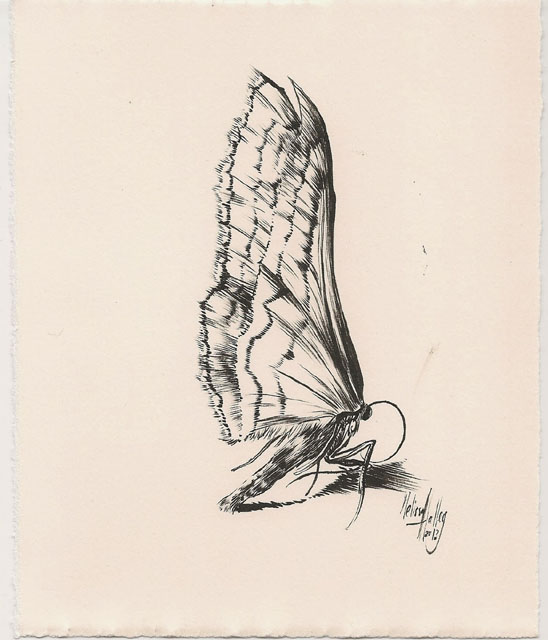 Add a comment
Details

Hits: 2601