February 10th, 2014
Last Saturday I went to Teylers Museum in Haarlem to see the exhibition
'The Romantic Soul, Paintings from Russia and the Netherlands'.
Teylers Museum on their exhibition:
"Towards the end of the 18th century, Europe witnessed the advent of a new
cultural movement, in reaction to the prevailing coolness of classicism:
Romanticism. Gone was the supremacy of Reason.
Romantic art gave precedence to emotions, intuition, spontaneity and imagination.
With imminent shipwrecks, oaks split by the force of nature, awe-inspiring sunsets,
or at times tranquil interiors and sensitive portraits, artists in all parts of Europe
conveyed their emotional responses."
It was very interesting to see the similarities and differences between Russian and Dutch art
of that time.
You can visit the exhibition until May 25th 2014.
I enjoyed myself at 'The Romantic Soul' but then I stumbled into the exhibition about
Willem Hofker, which impressed me maybe even more.
Willem Hofker (1902-1981) made really beautiful, delicate drawings. Sometimes you
can see the artists love for the subject and Hofker is a good example of that.
Next to drawings Teylers Museum shows a small collection of etchings and lithographs.
Most of Hofkers work show Balinese women/ dancers.
Willem Hofker and his wife moved to Bali (Indonesia) in 1936. During the Japanese
occupation in WW 2 they were both put in internment camps (separately).
Still Willem Hofker managed to keep drawing and this gives us a very interesting view into
camp life. You can visit the exhibition until March 9th 2014.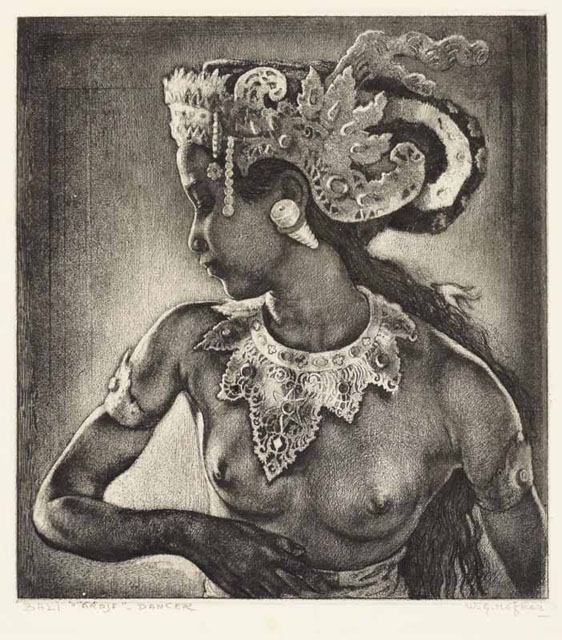 Willem Gerard Hofker
Ni Asoeg in Ardja, 1946
Aquatint Etching
27,5 x 25,5 cm
Add a comment
Details

Hits: 4025
January 29th, 2014
This week is all about administration (just finished 2012, now for 2013, ugh...). So sadly
enough almost) no drawing for me. Also blogging is not very high on my 'to do-' list, I
can't possibly interest you in my admin adventures.

Yesterday evening, after lots of work, I was relaxing for a bit and came across this amazing webpage.
It's by a blog I follow: Book By Its Cover. They publish about beautifully designed books.
Book-lovers out there go check them out!
Yesterday I found out about the category Sketchbooks. To me there is nothing more
interesting and inspiring to 'spy' on my fellow artists and have a look in their sketchbooks.
It's also a great push to start filling those sketchbooks myself.
Can't wait for this week to be over and start experimenting!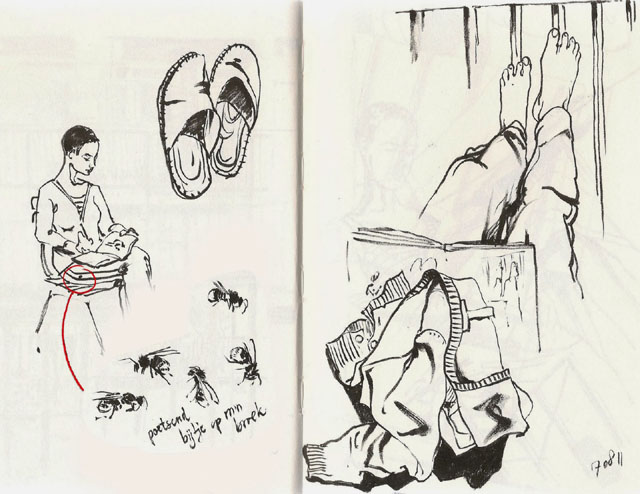 Add a comment
Details

Hits: 3738
January 24th, 2014
This year (2014) I have some big changes planned, new beginnings and also endings.
irst change started October 2013. I decided to quit at the artmarket Art Plein Spui Amsterdam.
Saying that sales were not that great is an understatement. Especially since the crisis set in.
Next to that I noticed that I was producing for the market instead of enjoying my art. In a way
having a spot at the artmarket is safe. You have your spot, are surrounded by nice people who
do the same thing as you do and nothing is making you go out there and find better things.
So that's what I'm setting out to do this year, going out there and find better things! 
First plan was to start a blog and (this time) keep adding updates. My goal is 3 times a week.
So here it is, my blog. Not finished yet, still tweaking lots and lots but there's content.
Now for some readers!
Next in line is my website. It's terribly outdated so that's my next project.
But what's after that? I'm having trouble with setting priorities. Where to start and what do I
want exactly? I want to have exhibitions again. I want to look into my childhood dream and
illustrate. I want to enjoy making art like when I was a child.
How to achieve all this? That's partly what this blog is about, finding out and pushing myself to
make plans work!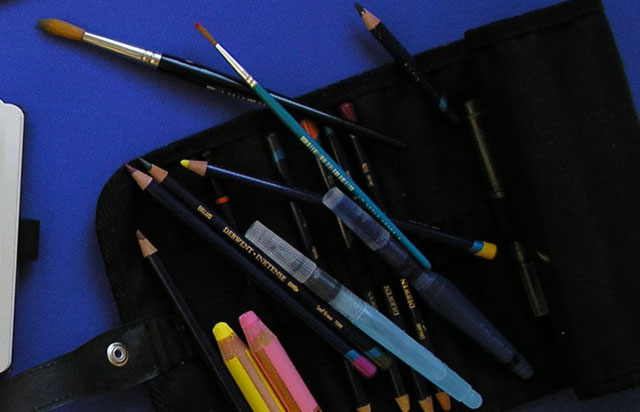 Add a comment
Details

Hits: 6066
January 22 nd, 2014
You might wonder: 'What are these monsters?! What happened to the cute, lovely bees!?!'
Well, they are still in the planning but I had to do these first. These are Phasmatodea,
commonly known as stick insects, walking sticks or stick-bugs. This particular kind is
called Heteropteryx Dilatata PSG 18. They were part of a terrarium that was getting
overpopulated.
For me this was a very good lesson in getting over my fear of insects. As you probably know
insects usually fold their legs across their body when they die. So first thing I had to do before
drawing was wait for them to defrost, then very carefully bend their little legs back to positions
that would look natural and leave them to dry (out). I have to confess I used tweezers. I got
the Phasmatodea through my friend and fellow artist Katja Berkenbosch. She makes wonderful
aper art and often uses butterflies in her artwork.
While drawing the Phasmatodea I completely fell in love with their 'armour' and despite of it
would find the same vulnerability I found in the bumblebee, moths and flowers. Especially
when I realized that the biggest specimen I had (5 cm) was starting to develop wings. Wings
that would never grow and take it anywhere. Next to that I realized I had drawn it as big as it
could have gotten had it reached adulthood.
Still pondering colour...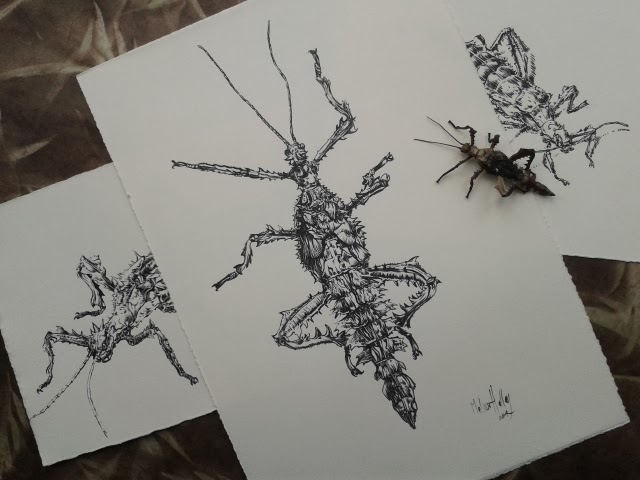 Add a comment
Details

Hits: 4547
January 17th, 1014
And this is how I'm able to do such detailed drawings of tiny insects.
As I understand it it's actually a magnifying-tool for soldering. It has two pincers to hold stuff
that I folded in so they're not in my way.
This apparatus is a really big help when you're subjects are very small! :)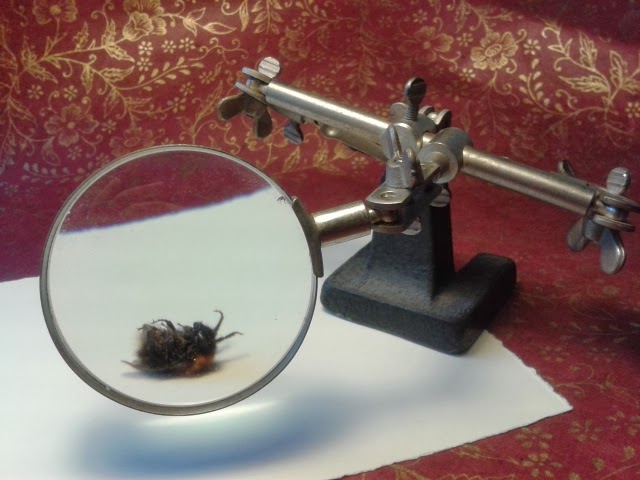 Add a comment
Details

Hits: 3746