May 20th, 2014
After my previous blog I got two questions about some of the content.
First was, what those hurdles were that I was talking about. Next people wondered whether I
truly meant it when I wrote: 'Winning or losing, I'm very happy I participated!' Wasn't this just
a way to hide the fear/ chance of upcoming disappointment?
I'll start with the hurdles, I think explaining those will also answer the second question.
Like I mentioned before, as a child I dreamed of illustrating books but I never made any serious
attempts to pursue this dream. Now I was finally doing it! Exiting but scary.
Instead of illustrating I went to the Academy of Fine Art in Education. Still I can hear the
teacher's voices echoing in my head: my taste in art was poor, not to mention cliché and so
was my artwork. Even now tiny parts of my brain objected to me illustrating: 'this wasn't art
with a capital A!!'
I decided not to care, I was enjoying myself and that's what matters, right?!
Working on my art I got stuck often. I got scared to continue, scared to ruin things,
scared of expectations. This made me re-think everything. Illustrating for the contest there was
no time for such nonsense. All 3 illustrations needed to be finished well before the 1st of May. So I had to just 'do'.
I rediscovered how much I like storytelling, my way. Now when I draw I just 'do' and don't get
stuck that easily. I got closer to what I like doing without being embarrassed about it.
I found new solutions, new materials, new combinations.
During the 20 days of working on my illustrations I had a week of vacation and I caught myself thinking:
'Oh, I hope I won't spend my whole vacation drawing!' And then I thought, wait a minute, I
remember a time when I couldn't wait for the (school-) vacation to start so I could draw all
week! The moment I realized that, something changed, I couldn't wait to get to my studio and start drawing.
Doing these 3 illustrations has brought me so much. So when I say that even when I'm losing
I'm winning, I truly mean it.
Below an unfinished detail of the 2nd illustration I did for the Lemniscaat contest.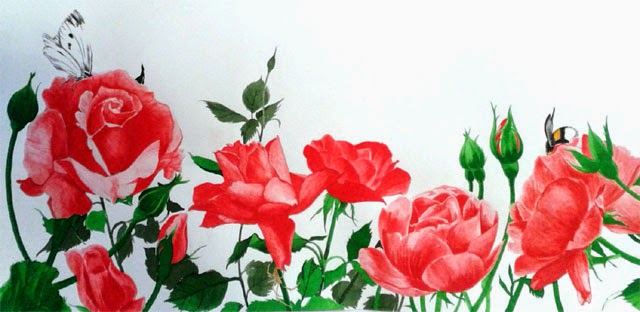 Add a comment
Details

Hits: 3227
May 12th, 2014
Again I've been too quiet for my own (blogging-) good. Last month I was totally occupied by
the Lemniscaat illustration contest. Literally every moment I could spend drawing, I did.
As a child I always dreamed of illustrating children's- and mostly fairytale books but I
never actually made any attempts to do so.
Illustrators were asked by publisher Lemniscaat to send in three illustrations that go with a
story of their own choice. It was clear to me it had to be a fairytale but which one? I chose a
story from 'Persian Fairytales' by Arthur Christensen (original title: Persische Märchen).
My dad used to read from them when I was little and after all the stories by Grimm and
ndersen they were amazingly refreshing. These stories had all this different creatures and
different magic and lots of blood and gore! My choice fell upon 'Mohammed the shepherd and
the three Peri princesses'.
From beginning to end it took me almost 20 days to finish all three illustrations and I was
just in time for the (Dutch) closing date on May 1st! It took me this long because I had to take
some really hard hurdles that housed in my brain. Now that I have returned to my 'regular'
drawings I can feel a difference in the way I work. I just DO because when working on the
illustrations there was no time to ponder every brushstroke, they had to be finished and soon!
So I'm very happy with this change and much happier to go to my studio.
Sure I would like to win the contest, sure I would like to be among the 10 best and attend a
master class by an internationally recognized illustrator. I would like having my work
promoted during the Bologna Children's Book Fair. Have my work exhibited in library 'The
Hive', in Worcester, England, in the Shanghai Library, China and also in the Centrale
Bibliotheek Rotterdam, The Netherlands.
I would like all these things very much but taking these personal hurdles was very important to me.
Winning or losing I'm very happy I participated!
Below details from the three illustrations I did for the Lemniscaat contest.

Add a comment
Details

Hits: 2469
April 1st, 2014
In my blog from a week ago I spoke about making a print in a new material: SoftCut.
Making a print, doesn't matter if it's an etching, drypoint or linocut, is always a difficult
thing for me because I hurt my hand in 2008. Things got overworked, inflamed, my thumb
hurt like crazy and for about a year I couldn't do anything. Writing, drawing, even holding a book
during reading was a challenge.
Over time things got better but my hand is still not the way it used to be. I can't work long
hours, I had to stop all printing activities and I switched from pencil and pastels to drawing inks.
Progress is still made, the amount of time I can work increases. Recently I started a drawing in
pencil, something I couldn't do for a long time. Still I have to be very careful not to overdo it.
So making a linocut was a big challenge.
This is why I set out to look for a material that would give the impression of a linocut but
would be more easy to cut. I made some stamps out of big erasers but with erasers size
is limited. At Hoopman Artsuplies I found SoftCut.
It has pros but also quite a few cons, especially when you are used to linoleum. SoftCut is a
flexible sheet of rubber. It has one smooth and one less smooth side. The smooth side is the
side to cut. It doesn't have a woven structure like linoleum, it's just rubber.
SoftCut is available in different sizes varying from 75x75 mm to 200x300 mm.
Pros:
- For me and my problematic hand SoftCut was great. My tools would just cut through the
surface (almost) like butter.
- If you want to cut a round shape you don't have to stop or be extra careful not to mess up
your work. You can easily take the corner by twisting your hand/ tool or by twisting SoftCut
into the right direction.
- It doesn't break like linoleum does so it's very suitable for detailed work.
- Flexibility makes it possible to make prints on curved surfaces.
Cons:
- The biggest size SoftCut available is 200x300 mm. Much smaller than linoleum. The print
Jantine and I did was actually made by printing 2 sheets of SoftCut next to each other so the
size would be 200x600 mm. This was because of SoftCuts flexibility not an easy task.
- When you cut linoleum the last bit of the snippet kinda breaks off, you don't have to
finish the cut. SoftCut doesn't do that, you have to remove the snippets by pulling them off
which takes time.
- To trace our design on the SoftCut Jantine and I first tried to use carbonpaper but that would
not take! Pencil did take and ballpoint did too but both would easily smudge or disappear
altogether.
- Flexibility was also a con because during the whole printing process the shape of the SoftCut
sheet would not remain the same. We had to take off all pressure of the press so it would not
smudge, or compromise SoftCuts shape. So better to use a baren instead of a press.
For me SoftCut is a great new material which allows me to finally continue my printing career
but I think most artists who don't have similar problems like mine will stick with linoleum.

Add a comment
Details

Hits: 5160
March 27th, 2014
A month ago I posted a blog about art related books I was reading. I want to continue that
tem but then I realized something. Next to 'normal' books with just letters and the
occasional illustrative picture I also read comic books or, as the French would say, la bande
dessinée. 'Comic books?' you might wonder. Don't worry, I'm still on topic. Because did you
now there are a lot of these about artists?
Artists like Rembrandt van Rijn, Vincent van Gogh, Egon Schiele and much more! The
picture below shows just the ones that I have, there are lots and lots more! So here's a fun
idea. I will read these (again) and try to get my hands on the others I know of and let you
know what they are like.
And my next blog will truly be about SoftCut.
On the pic below starting with title, then artist and publisher. Note that these are all Dutch
versions:
Pablo 1, 2, Julie Birmant & Clément Oubrerie, Blloan.
Egon Schiele, Xavier Coste, Casterman.
Typex' Rembrandt, Typex, Oog & Blik//Bezige Bij.
Vincent & Van Gogh, Gradimir Smudja, Silvester.
Gauguin, Gaultier & Le Roy, Le Lombard.
Munch, Steffen Kverneland, Oog & Blik//Bezige Bij.
Het Kunstbordeel (Henri de Toulouse-Loutrec) 1, 2, 3, 4, Gradimir Smudja, Silvester.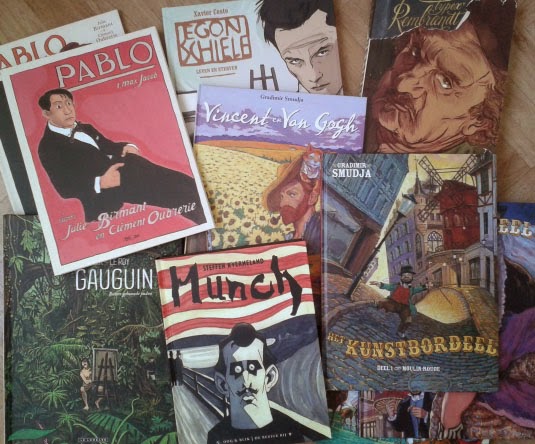 Add a comment
Details

Hits: 2548
March 24th, 2014
Finally after a whole month of silence I can show you what I've been doing. Between my
part-time job and the 'secret project' in my studio there wasn't much time left to do
anything else and sorry to say no time for writing substantial blogs. But the silence ends here.
What have I been doing that was so secret?! Well, it might be a little less exciting than it sounds.
I belong to a group of 7 artists that share a studio at Grafisch Collectief Thoets. Our group
is specialized in printing techniques like etching, woodprint, lithograph and silkscreen.
We present ourselves as a group and once a year have an open studio day. We also have a
group of people who donate money so we can continue to exist, organise fun art projects etc.
For these nice, giving people we make a print that's not for sale, just a special gift to them.
This year Jantine Geels and I were the ones to make the print. We usually do this in a team of
two which results in very surprising prints, very much to the liking of our donators.
The upper part is mine aside from the bee. The stem turning into the umbilical cord ending in
a flower that is also the embryo's belly are mine too. The bee and lower panel showing the
embryo were done by Jantine Geels.
The print resides in a handprinted booklet about Make A Move, a project we contributed to in
October 2013.
It's been a month of organizing, designing, sketching, (lino-)cutting, printing and folding
(yes, folding!). The print was presented Sunday the 16th and was received positively and I'm
pretty pleased with it also.  
The print was done in a material called SoftCut, something I will talk about in my next blog.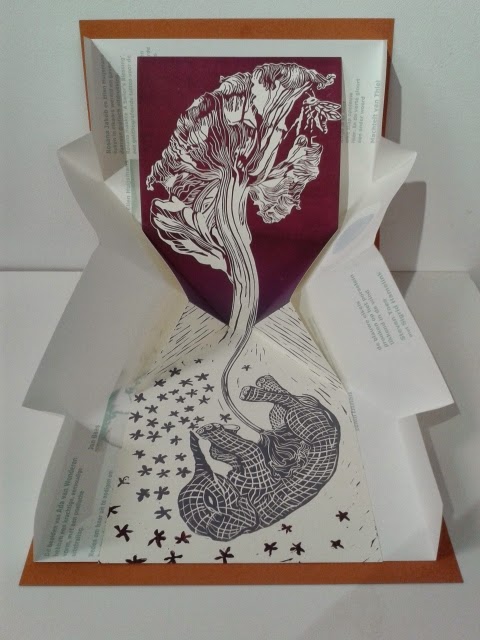 Add a comment
Details

Hits: 2785