March 27th, 2014
A month ago I posted a blog about art related books I was reading. I want to continue that
tem but then I realized something. Next to 'normal' books with just letters and the
occasional illustrative picture I also read comic books or, as the French would say, la bande
dessinée. 'Comic books?' you might wonder. Don't worry, I'm still on topic. Because did you
now there are a lot of these about artists?
Artists like Rembrandt van Rijn, Vincent van Gogh, Egon Schiele and much more! The
picture below shows just the ones that I have, there are lots and lots more! So here's a fun
idea. I will read these (again) and try to get my hands on the others I know of and let you
know what they are like.
And my next blog will truly be about SoftCut.
On the pic below starting with title, then artist and publisher. Note that these are all Dutch
versions:
Pablo 1, 2, Julie Birmant & Clément Oubrerie, Blloan.
Egon Schiele, Xavier Coste, Casterman.
Typex' Rembrandt, Typex, Oog & Blik//Bezige Bij.
Vincent & Van Gogh, Gradimir Smudja, Silvester.
Gauguin, Gaultier & Le Roy, Le Lombard.
Munch, Steffen Kverneland, Oog & Blik//Bezige Bij.
Het Kunstbordeel (Henri de Toulouse-Loutrec) 1, 2, 3, 4, Gradimir Smudja, Silvester.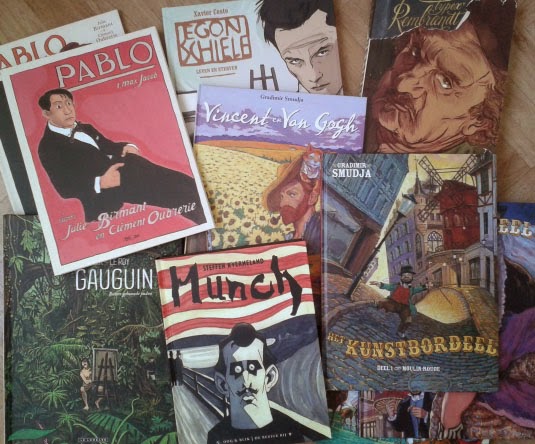 Add a comment
Details

Hits: 2062
March 24th, 2014
Finally after a whole month of silence I can show you what I've been doing. Between my
part-time job and the 'secret project' in my studio there wasn't much time left to do
anything else and sorry to say no time for writing substantial blogs. But the silence ends here.
What have I been doing that was so secret?! Well, it might be a little less exciting than it sounds.
I belong to a group of 7 artists that share a studio at Grafisch Collectief Thoets. Our group
is specialized in printing techniques like etching, woodprint, lithograph and silkscreen.
We present ourselves as a group and once a year have an open studio day. We also have a
group of people who donate money so we can continue to exist, organise fun art projects etc.
For these nice, giving people we make a print that's not for sale, just a special gift to them.
This year Jantine Geels and I were the ones to make the print. We usually do this in a team of
two which results in very surprising prints, very much to the liking of our donators.
The upper part is mine aside from the bee. The stem turning into the umbilical cord ending in
a flower that is also the embryo's belly are mine too. The bee and lower panel showing the
embryo were done by Jantine Geels.
The print resides in a handprinted booklet about Make A Move, a project we contributed to in
October 2013.
It's been a month of organizing, designing, sketching, (lino-)cutting, printing and folding
(yes, folding!). The print was presented Sunday the 16th and was received positively and I'm
pretty pleased with it also.  
The print was done in a material called SoftCut, something I will talk about in my next blog.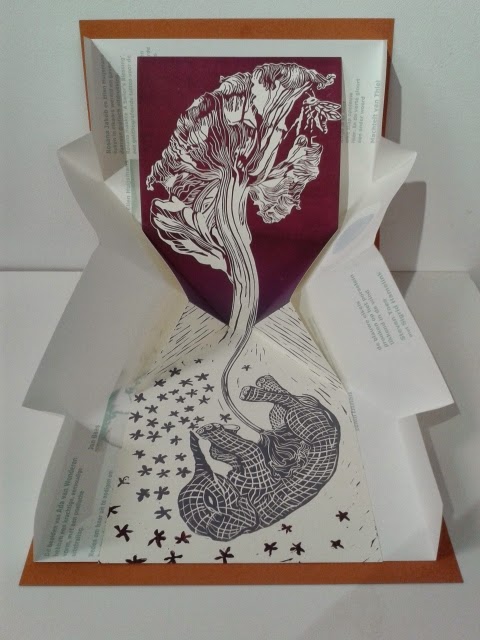 Add a comment
Details

Hits: 2283
February 24th, 2014
I like books. I like everything about them. I like to read them, flip through them, smell them
and own them. So when I need some information about something I'm still more
likely to look for the answer in a book rather than the internet.

When I re-started this blog I actually did both but I want to share the books I read.
First I started in 'Blog INC' by Joy Deangdeelert Cho (Chronicle Books). A very helpful book
about how to start a blog and make it successful. What I really liked was the fact she
nterviewed lots of good bloggers and you get a nice view on how they started and what it
took to be where they are now.
After that I read 'Blogging For Creatives' by Robin Houghton (HOW Books). The title
appealed to me but it also had lots of new things to offer alongside 'Blog INC'.
'Blogging For Creatives' gives a bit more technical information. It compares different
blogging platforms and it has nice colour pictures that give you inspiration and an idea
about possibilities for your own blog. Both books have good tips about questions one
might have like for instance: "how often should I post?"
So if you want to read more about how to blog I recommend both books.

Right now I'm reading 'How to be an Illustrator' by Darrel Rees (Laurence King). First edition
was 6 years ago and this second edition is nicely updated. Both on information and
beautiful colour illustrations. It's focused on the starting illustrator freshly out of (or still in)
college but that's no problem. Lot's of interviews with both illustrators and others that
are working in the industry. Helpful tips about making a portfolio, job-hunting, financial tips,
promoting yourself etc.
The book is from the UK but includes information about the US and so on.

All books were purchased at ABC - The American Bookcenter (Amsterdam).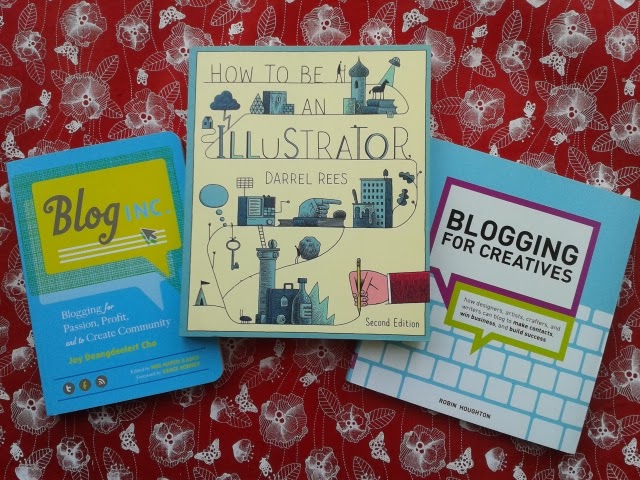 Add a comment
Details

Hits: 2434
February 12th, 2014
On January 29th I posted a blog about sketchbooks. Book By Its Cover has this
wonderful page where you can have a look into artist's sketchbooks. Very inspiring.
Nonetheless filling those sketchbooks myself keeps being a challenge.
The blank page remains an obstacle. The content of the page still should be "perfect"
or at least good enough for others to see. Why can't I just let go of that?
A sketchbook should be a little private place where an artist should feel total freedom
to do whatever they feel like.
Why can't I just splatter my ink all over the pages, scribble relentlessly on top of the mess?
Why can't I just experiment BIG?! I can't think of any other reason but fear. Fear of making
ugly things, fear of losing control, fear of being found out? How will I ever know what I'm
capable of when I keep being scared? I won't, it's as simple as that and I had enough.
First step to overcome fear is to show you a page from my current sketchbook that I would
never show without being embarrassed. It was done after a dream I had. I used ink, pencil
and felt-tips.
I was not happy with the result and I stopped working like this right when I started.
Melissa, start experimenting, start making a mess!!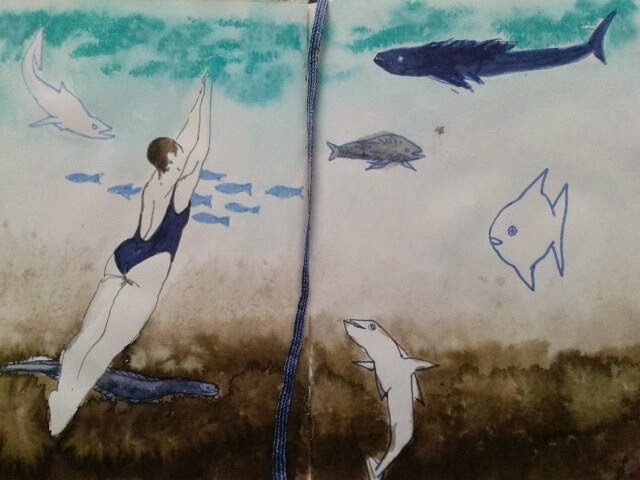 Add a comment
Details

Hits: 4330
February 10th, 2014
Last Saturday I went to Teylers Museum in Haarlem to see the exhibition
'The Romantic Soul, Paintings from Russia and the Netherlands'.
Teylers Museum on their exhibition:
"Towards the end of the 18th century, Europe witnessed the advent of a new
cultural movement, in reaction to the prevailing coolness of classicism:
Romanticism. Gone was the supremacy of Reason.
Romantic art gave precedence to emotions, intuition, spontaneity and imagination.
With imminent shipwrecks, oaks split by the force of nature, awe-inspiring sunsets,
or at times tranquil interiors and sensitive portraits, artists in all parts of Europe
conveyed their emotional responses."
It was very interesting to see the similarities and differences between Russian and Dutch art
of that time.
You can visit the exhibition until May 25th 2014.
I enjoyed myself at 'The Romantic Soul' but then I stumbled into the exhibition about
Willem Hofker, which impressed me maybe even more.
Willem Hofker (1902-1981) made really beautiful, delicate drawings. Sometimes you
can see the artists love for the subject and Hofker is a good example of that.
Next to drawings Teylers Museum shows a small collection of etchings and lithographs.
Most of Hofkers work show Balinese women/ dancers.
Willem Hofker and his wife moved to Bali (Indonesia) in 1936. During the Japanese
occupation in WW 2 they were both put in internment camps (separately).
Still Willem Hofker managed to keep drawing and this gives us a very interesting view into
camp life. You can visit the exhibition until March 9th 2014.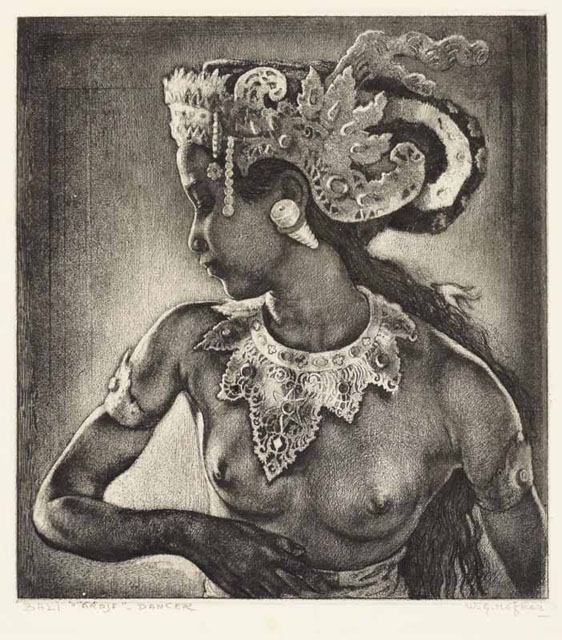 Willem Gerard Hofker
Ni Asoeg in Ardja, 1946
Aquatint Etching
27,5 x 25,5 cm
Add a comment
Details

Hits: 2413