A day late but here is the result of a week (and a day) of my Drawing a Day project.
So far so good.
I try to post all my drawings (and more) on Instagram.
You can find me at: melissa_halley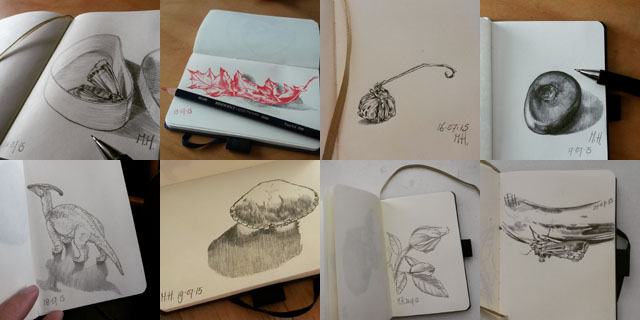 Add a comment
Details

Hits: 2620
March 2013 I started my Drawing A Day sketchbook. My plan was to make a small
drawing every day that would take about 15 to 30 minutes. The idea was to draw every day
especially when I couldn't spend that day entirely drawing or on other art related business.
It's also a really good way to get your drawing-juices flowing.
After a month I abandoned the sketchbook, started again and so on until the beginning of
this year.
For some reason I couldn't stick to it, every day I had more important things to do, no time and
after a while I would just forget.
I got quite upset with myself that I could not even do this little 15 minute thing.
A few months ago I made a daily plan and the Drawing A Day was part of that plan but still I
would somehow 'forget'.
Until today…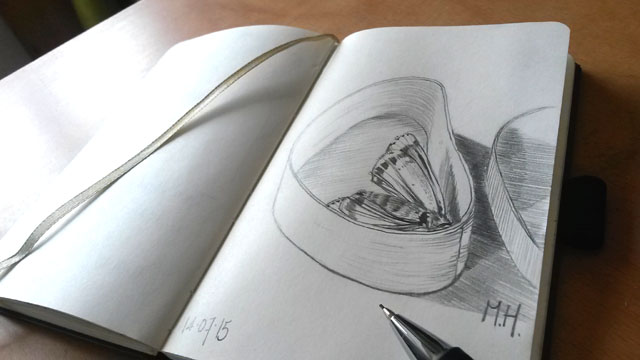 Add a comment
Details

Hits: 2469
Sometimes kids (temporarily) come back to live with their parents again. Last weekend 3 of my
'kids' returned home. These drawings were sold in 2003 and 2006 and I hadn't seen them since.
It was actually nice to see them again.
The circumstances were less fun. The man that bought them in the past recently passed away,
there were no family members who showed interest in them and that's how they were
returned to me. Feels weird…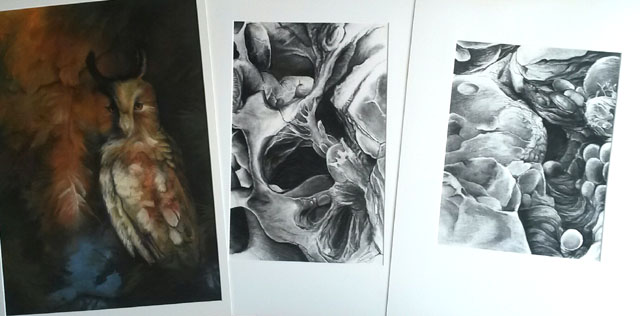 Add a comment
Details

Hits: 2498
Recently I've been listening to this podcast called The Unmistakable Creative. The people
that get interviewed are all some kind of creatives. For me the painters etc. are most
interesting but interviewer Srinivas Rao is really good at his job because he's actually interested
in the answer to the questions he's asking. So I got really addicted to listening to his podcast.
Different books have been promoted on this show and I got curious so I bought some of the
titles: 'The Crossroads of Should and Must' by Elle Luna, 'Steal Like An Artist' & 'Show Your
Work' by Austin Kleon and 'The War of Art' by Steven Pressfield. All books were purchased at
the American Book Center Amsterdam.
Find some of my favourite episodes of the podcast here: Lisa Congdon, Elle Luna, Austin
Kleon, James Victore.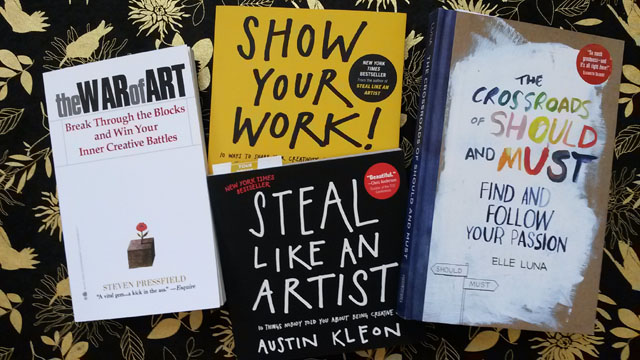 Add a comment
Details

Hits: 2506
The last couple of years I've been wondering a lot whether I'm on the right track or not. Is my
work good enough (for what?), am I creative enough (in comparison to whom?), do I got
what it takes to make it in this business?
Very hard questions to answer or even think about. 'No' scares me to death, or close to it…
By now I do know that I could have done a lot more than I have done and I'm working hard to
change that which is not always easy when recovering from a burn-out. I still want to do
more than my body will let me.
Yesterday for some reason everything came down from its shelves and I couldn't see
through all the mess. What should I do, where do I start, continue (whatever)?
After the initial panic I picked up my brush and still very confused I continued on one of the
drawings I'm working on. With every brushstroke my mind relaxed and I felt the
mess on the floor of my brain getting back to its shelves. I never felt this process so clearly
happening and I continued to draw. Relaxing, becoming silent turned into certainty that I am
on the right track and I am doing what I'm supposed to do: DRAW!



Add a comment
Details

Hits: 2864