This is a cropped image of a bigger painting

Last April I got my hands on some Daniel Smith Watercolor Ground. The directions say it's an
excellent ground for watercolour on all surfaces: canvas, paper, plaster, hardboard but
also non-absorbent surfaces like glass, plastic, metal etc.
'Sounds pretty good!' I thought, I've been searching for a way not having the need to put
my art behind glass and there are ways but I thought I needed a surface other than paper.
So I tried the ground on a canvas board. I applied different layers and waited at least 24
hours before applying the next layer. I'm used to combine both bistre and watercolour in the
same painting and did so on the treated canvas board.
To my surprise the ground started to mix with the bistre and I needed to switch techniques to
make something of the painting.
A while later I decided to give the watercolour ground another try, just using watercolour.
This time the ground didn't dissolve or mix so I started out quite happy. Until I applied the
second layer of watercolour…
When using watercolour on paper the paper absorbs the water/ paint. When you apply a
second layer you can just paint over the first or mix the new paint with the previously applied
paint depending on how much water you use.
Not with the watercolour ground. Because it's non-absorbent a second layer totally destroys
the first layer!
Because of this I was forced to paint the face again and again for several times. This was so
frustrating I was tempted to wash it off completely or throw it against a wall or something.
I decided against both options and am trying to finish this as well as I can but it takes a lot of
patience.
Right now I'm not really happy with how it looks, I hope I can fix it without totally destroying
all the previous work…
A better solution for my 'not-wanting-to-put-my-art-behind-glass problem' is mounting
watercolour paper on board or wood. More about that later!!
Add a comment
Details

Hits: 949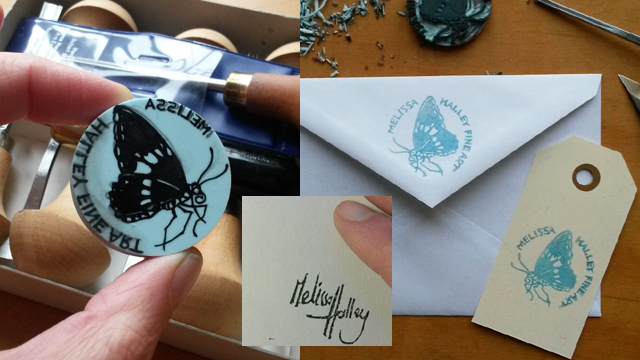 This is the first time in two years I'm not doing a 30 in 30 project in January.
The 30 Paintings in 30 Days Challenge by Leslie Saeta is postponed to February but I don't
think I'll participate this time.
The last two years December and January were very hectic. Planning, preparing, making,
posting, it was fun and I learned a lot but it was also very trying because it would take place
during the Christmas holidays when my boyfriends' son would be with us. With me
ending up not being able to do fun stuff with them or work long hours one day to work ahead
and have fun the next.
This year I really enjoyed the downtime during the holidays and I'm planning to make my art
in a more relaxed setting and listen to my gut because I was just stressed all the time.

Still, doing nothing is hard so I made some small projects. I cut a brand stamp and also a
name stamp in my own handwriting. Can't wait to use these on new projects and shipments.

I do have some plans for the next few months but I either just started or am still in the
experimental phase so more on that soon.
Add a comment
Details

Hits: 697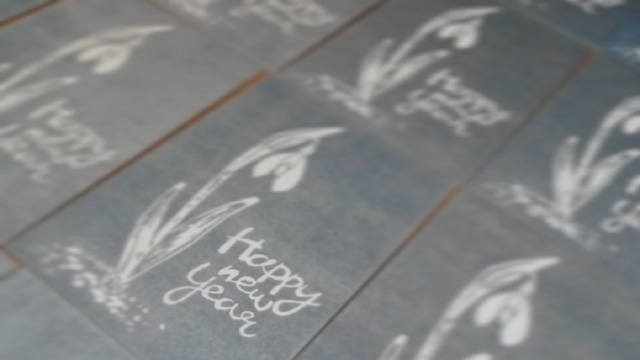 Every year I make a New Years print for everyone who bought original art by me.
This year I decided on a single snowdrop. That precious little flower that pops up first
foreboding spring when nature is still quite cold. I love the promise it represents.

The ink I used for this print is a mix of silver and Prussian blue. I added the blue to make the
colour a bit darker and more diverse. Funny thing was when I moved the ink around with my
palette knife or ink roller it would look blue, when left alone it would turn silver again.
Add a comment
Details

Hits: 712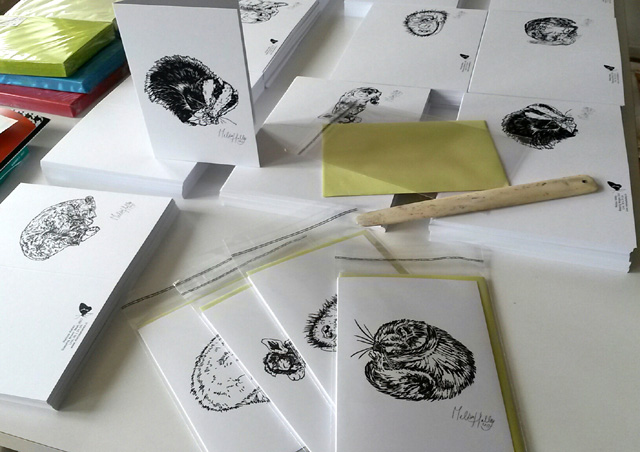 Yay! Thanks to a couple of really nice people who pre-ordered my 10 then still to be printed
greeting cards of the '15 Lino's in 30 Days' series I was able to actually have them printed!
Now the whole series of Sleeping Animals is complete and for sale at my webshop



Last January I did the '15 Lino's in 30 Days' project as a part of Leslie Saeta's project
'30 Paintings in 30 Days' which she does every January and September.
Cutting and printing 30 would be too much so I decided on 15. The project was a success.
I managed to do all 15 lino's, people liked them and I had some sales.
The perfect project to turn into a series of greeting cards I thought but having them made
all at once would be an expensive endeavour so I decided on printing a third.

Since I have an Open Studio coming up on the 12th of November I thought it would be nice to
have the series complete by then and I asked friends, family and followers to help me out.
So thank you Ron, Frans, Joyce, Siemen, Jos, Claudia and Jantiene for your (pre-) orders,
helping me to finance the remaining 10 cards.
And last but not least, thank you Peter Print for your great printing advice!
Add a comment
Details

Hits: 1009