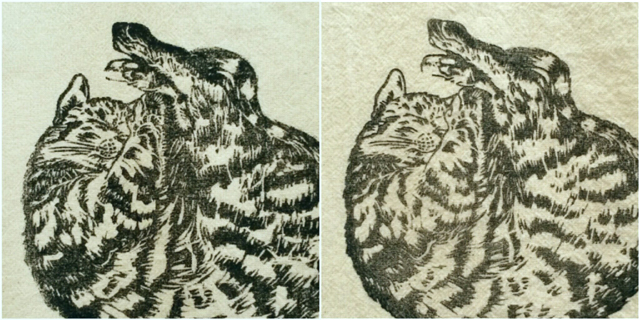 (left = water-based, right = oil-based)

Next to my job at Van Beek Art Supplies, my weekly bug stamp, my watercolour
experiment on panel and the start on a new lino print I've been working on another experiment:
printing on textile!
I've been using my Sleeping Cat lino from last years' '15 Lino's in 30 Days' project.
Next to just trying things out by myself I've been reading a lot on the internet too.
The problem I'm running into is that most favourite brands I read about are not available
in the Netherlands and having it shipped here is a bit too expensive for me right now.
A lot of people use Permaset Aqua which is actually made for screen printing but lots of
people succeed perfectly in using it for printing lino on textiles.
After a bit of experimenting with a soft brayer and a thick layer of Permaset Aqua ink I
managed to get some good prints.
But the thing is I also did some prints with some leftover etching ink and I like those
results much better!
As you can see on the picture above, the water-based Permaset Aqua print is much cruder than
the print next to it which is printed in oil based ink. I've read more complaints about this on the
internet. Somehow the results with water-based inks in general are always a bit crude.
Not a problem when your design has big shapes but my prints are mostly quite delicate.
And now I'm puzzled on how to continue next.
Do I continue with water-based ink which has a cruder end result but is set after ironing or do
I go for the nicer print which I fear will remain vulnerable for solvents like white spirit.
I tend to go for oil based because it's more beautiful and I must say next to my studio
clothing none of my textiles ever had a collision with white spirit or any other solvent…
What do you think?
Add a comment
Details

Hits: 1508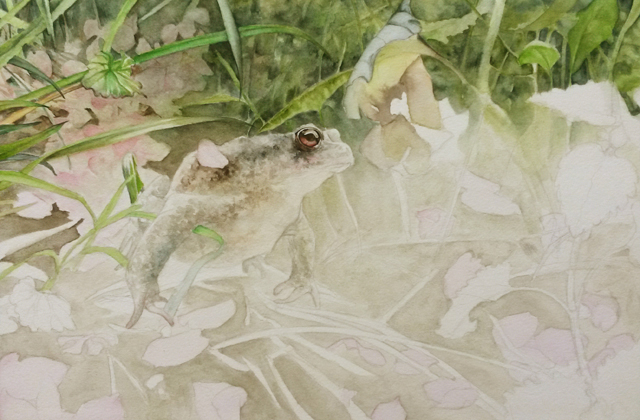 Two weeks ago I wrote a blog about how I mounted watercolour paper on a wooden panel.
When I wrote that blog I had started drawing my concept but had not started applying
watercolour yet.
Shortly after that blog I started adding watercolour and I'm very happy about how the
surface responds to the paint. The paper stays perfectly flat on the wooden panel so the gluing
process worked well, no bubbles popping up or wrinkly paper whatsoever! The paper responds
to the paint as it should with the only difference (maybe) that it dries a little quicker.
As you can see the painting is not finished yet, I just wanted to show a glimpse of what I'm
doing.
Next week more about another experiment I'm working on.
Add a comment
Details

Hits: 1107

(Ladybug, Firebug, Weevil, Common Wasp)


This year I'm not participating in Leslie Saeta's '30 Paintings in 30 Days' challenge. I won't be
able to make what I want to make next to a paid job and spending time with friends & family.
Also it feels kinda nice spending my time on different creative adventures. Nonetheless I
learned a lot participating for the last two years.
For instance I got much better at planning my art and actually doing what I set out to do.
Just because I did big projects and I know I can do it again.
Find out about my 30 Paintings in 30 Days challenges below:
30 Paintings in 30 Days (1) / 30 Paintings in 30 Days (2) / 15 Lino's in 30 Days (3)

For the last few weeks I have been working on a small project. Every Friday I carve a bug-stamp.
For now there is a ladybug, a firebug, a weevil (from New Guinea) and a common wasp.
I'm planning to do a lot more. There are plans for these little critters but nothing conclusive yet.

Not doing a big project but in a way the whole week is a project. Saturday and Monday are for
my paid job. Sunday is my day off. Tuesday is for personal work, Wednesday for blogging,
keeping up my website/ webshop and administration. Thursday is spend like whatever
I feel like and Friday is for printing. Printing bug-stamps, printing linocuts, printing on textiles…
Add a comment
Details

Hits: 1209

Watercolour on mounted paper in the making
Last week I wrote about my adventures with Daniel Smith Watercolor Ground. It might be a
good product for some (a lot of art friends are very positive about it) but it's just not for me.
Still wanting to find a solution for not putting my drawings and watercolours behind glass I
also use Ampersand Aquabord and Ampersand Encausticbord. They both work very nice and
because of their surface they offer the possibility to varnish your art.
Still you're dependent on the sizes Ampersand or your art supply store offers and it's not
cheap to work on these boards.
Next thing I tried was mounting watercolour paper to board/ wood and here's how I did it.
It takes a little preparation and time but taking an effort really pays off. Also make sure you got
all the supplies you need close by because some actions need to be done very quickly.

I started out with a panel of linden wood and a sheet of 300 g/m2 (140lb) of
Saunders Waterford watercolour paper.
First I cut the paper to a size a few centimetres bigger than the panel and put it aside on some
paper towels.
Next I sanded down the wooden panel making it a bit smoother than it already was. If your panel
is already very smooth you can skip the sanding part here.
Wipe the dust off with a damp cloth and tape the sides of your panel with painter's tape.
This is to make sure the edges will stay clean during the mounting and also when you're
actually painting your art.
Apply a layer of gesso on the panel. The gesso makes sure the acidic nature of the wood won't
compromise the acid free paper you plan to work on. Let this dry before you proceed to the
next step!
Sand again, wipe again and you're ready to apply the paper.
To make sure the paper is applied nice and smoothly have a very clean lino brayer on hand.
Apply a good thick layer of bookbinder glue on the panel. It needs to be wet when you fix the
panel to the paper. Glue it to the paper.
Turn your panel with the paper up and use your brayer to even out any glue or air bubbles.
Start in the middle and work to the edges. You can apply quite some pressure here 


When you're finished put the panel face down back on the paper towels.
Now you need to weigh down the panel. You can use a stack of heavy books for this. I used
a board first (bigger than my panel) and then stacked some heavy books on top.
It needs to dry like this for at least a few hours.
Now that the glue is dry you can cut of the excess paper with an x-acto knife. To make the
edges look really nice you can sand them with a careful downward motion using fine sanding
paper.
Now your panel is ready to paint!

Before doing this I did a lot of online research what other people were using and what steps
they would take. Also not all brands of supplies are available everywhere.
This is what works for me.
Artist Kelly McKernan has a very elaborate blogpost about how she mounts paper onto
panel which was a great help.
Add a comment
Details

Hits: 1518

This is a cropped image of a bigger painting

Last April I got my hands on some Daniel Smith Watercolor Ground. The directions say it's an
excellent ground for watercolour on all surfaces: canvas, paper, plaster, hardboard but
also non-absorbent surfaces like glass, plastic, metal etc.
'Sounds pretty good!' I thought, I've been searching for a way not having the need to put
my art behind glass and there are ways but I thought I needed a surface other than paper.
So I tried the ground on a canvas board. I applied different layers and waited at least 24
hours before applying the next layer. I'm used to combine both bistre and watercolour in the
same painting and did so on the treated canvas board.
To my surprise the ground started to mix with the bistre and I needed to switch techniques to
make something of the painting.
A while later I decided to give the watercolour ground another try, just using watercolour.
This time the ground didn't dissolve or mix so I started out quite happy. Until I applied the
second layer of watercolour…
When using watercolour on paper the paper absorbs the water/ paint. When you apply a
second layer you can just paint over the first or mix the new paint with the previously applied
paint depending on how much water you use.
Not with the watercolour ground. Because it's non-absorbent a second layer totally destroys
the first layer!
Because of this I was forced to paint the face again and again for several times. This was so
frustrating I was tempted to wash it off completely or throw it against a wall or something.
I decided against both options and am trying to finish this as well as I can but it takes a lot of
patience.
Right now I'm not really happy with how it looks, I hope I can fix it without totally destroying
all the previous work…
A better solution for my 'not-wanting-to-put-my-art-behind-glass problem' is mounting
watercolour paper on board or wood. More about that later!!
Add a comment
Details

Hits: 1370