September is only a few months behind us and it feels like I just finished the 30 Paintings in
30 Days Challenge during which I drew/ painted in the Amsterdamse Bos (Amsterdam Forest)
for 30 days.
Now January is upon us and again the 30 Paintings in 30 Days challenging days are nigh.
This time I decided to do something different. I've been planning to pick up lino cutting for the
longest time so for next January I rename the challenge: '15 Lino's in 30 Days'!
Why 15 and not 30? That would be a little too much next to impossible. If I would cut
teeny-tiny lino's it could be possible but I want a nice size, 15 x 15 cm maximum. So 15 it is.
Cut one day, print the next.
Good preparation is key. I'm going to make drafts first, cut the linoleum to the right size.
Make sure I have enough paper and so on. I decided on a theme too and it's going to star
just animals.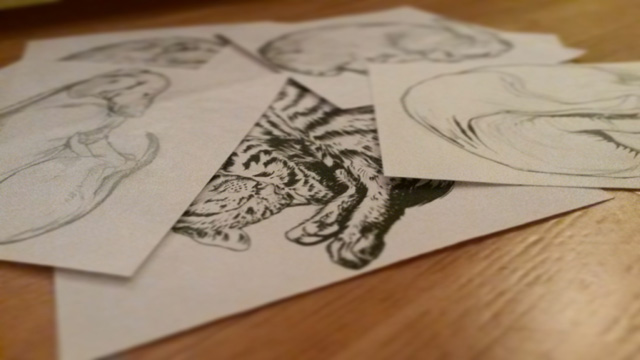 Add a comment
Details

Hits: 1354
You can prepare for an (art) event all you want but some things are just out of your hands.
The ArtWest Open Studio weekend was promoted quite well by the organisation.
I properly framed all art I wanted to show. I send out invitations via e-mail, via Facebook,
I put the event on my website, wrote a blog about it, shared it a couple of times on
Facebook… We cleaned the studio, hung the art (it looked quite good I think), bought drinks and
snacks, we had a massive flag waving for attention, the door stood wide open…
But then on Saturday there was rain, lots of rain and Sunday there was a storm and only a few
people dared to venture out of their warm, cosy homes.
Saturday we had 36 visitors and Sunday 46, considering the weather not that bad but still, if
the weather had been nice the turnout had been much higher. From our group of 5 I was the
only one who did not sell.
That evening wasn't very pleasant. I doubted myself and my work. Was my attitude too much
'wait-and-see'? Should I jump people when they enter the studio (something I hate when people
do that to me in shops etc.). Was my art just bad/ weird/ unmarketable? Did I present it wrong?
What did I do wrong??
Sunday, at the end of the event our group of Grafisch Collectief Thoets decided to prolong
our open studio to next Sunday. We would again invite everybody and hope for better weather.
The weather was nice, a lot of people who couldn't make it the weekend before came by
and I sold some small things. Happy.
I need to remember that there's nothing wrong with my artwork, I just need to reach the right
people.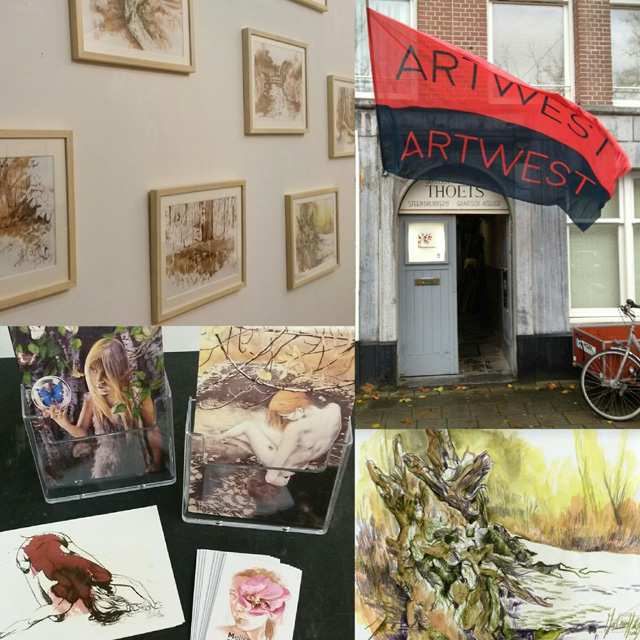 Add a comment
Details

Hits: 680
Getting ready for this!!
The last couple of weeks I've been working hard to finish up for my upcoming open studio
weekend which will be on November 19th and 20th.
Together with my artist colleagues Jan Baas, Ina Brekelmans, Edwin Emmens and
Ellen Huijsmans (Grafisch Collectief Thoets) I'm participating in ARTWEST Amsterdam for the
second time.

Please come by and visit at:

Nassaukade 321, 1053 LS Amsterdam.
On both Saturday and Sunday from 12:00 till 18:00.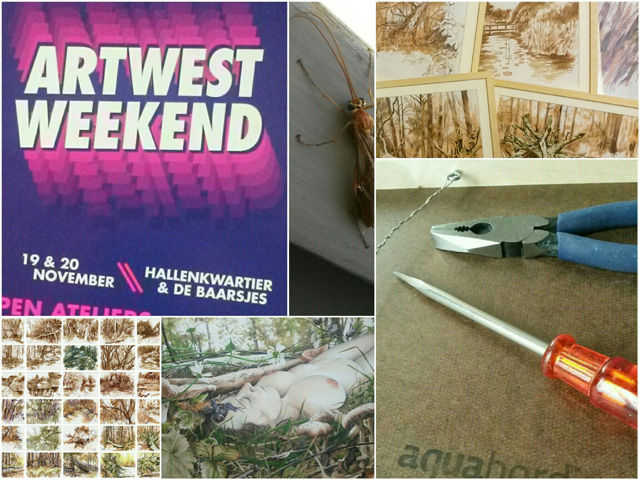 Add a comment
Details

Hits: 637
Today I varnished my most recent work. I started it a while ago and got stuck, put it away
for a few months and finished it last week.
After the '30 Paintings in 30 Days-challenge' from last September I finally knew how to continue.
Since I started working in colour more and more I also like using lots of different materials
(bistre, pigmentedink, water soluble (ink) pencils, soft pastels by Schmincke) at the same
time, just mixing them up.
Varnishing is possible because I work on aquabord by Ampersand and can be a problem
using all these different materials.
I start by putting on different layers of fixative letting them dry for 24 hours in between layering.
After that I put on a layer of matt acrylics varnish. This is the tricky part because if not
fixated well enough the varnish can partly dissolve the fixative and make the materials run.
All went well today.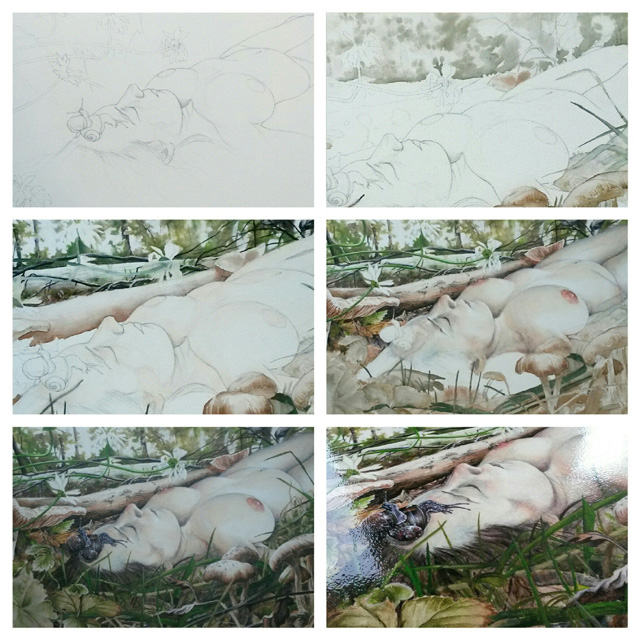 Add a comment
Details

Hits: 463
This was the second time I participated in Leslie Saeta's '30 Paintings in 30 Days'
challenge. This September was very different from last January, both the set-up and also
lessons learned.
In January I painted at home, used pictures I made and flowers I bought to make the
flower portraits I did.
This past September I got my sketchpad, my painting- and drawing materials, my drawing
stool and went on my way to the Amsterdamse Bos (Amsterdam Forest) by bike and then
went on by foot.
Being on my way to 'the spot' was very much part of the process but also took time.
Posting my blog and pictures with it, took more time. So a lot of time went into this project
which was hard sometimes. But I did it, I could manage the busy schedule for a whole month!
So in one way I'm glad it's finished and on the other I'm sad because it also felt very good to
spend my days painting and drawing in the forest.
When the weather is good I will probably go back there to draw. This felt too good to quit!

My plan was to spend my time drawing plein air, drawing nature. I love nature but drawing or
painting it was a horror to me with all its chaos. During this month I think I moved in the right
directing to finding order in this chaos and putting it to paper.
Along the way I added more colour which I think turned out to be a good move. Adding
colour gave my work more depth.
Also just sitting down at a nice spot doesn't make a nice painting/ drawing. I need to pick a
subject within the image I want to create and love it! This is wat happened on day 21 where I
fell in love with this tree stooping over the path. From that day on I tried to find a tree like
that again and again.
Spending more time (love) on one drawing also worked out for the better I think or at least it
added to the joy I experienced in making.
These trees still live in my brain, especially the ones that had fallen over. They probably will
find their way back as a subject.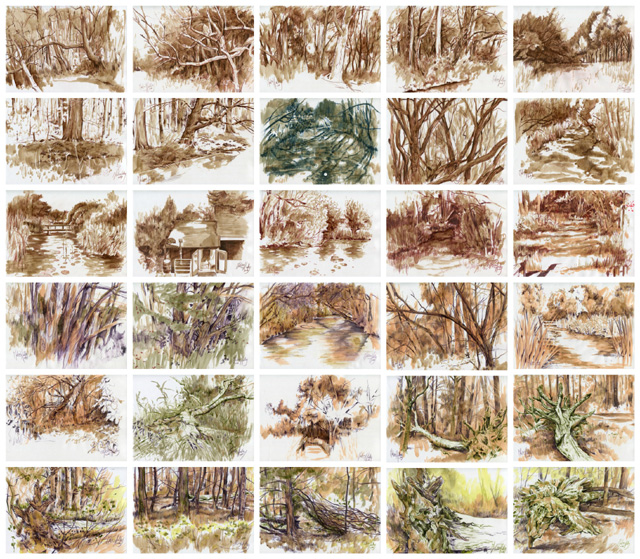 Add a comment
Details

Hits: 2154