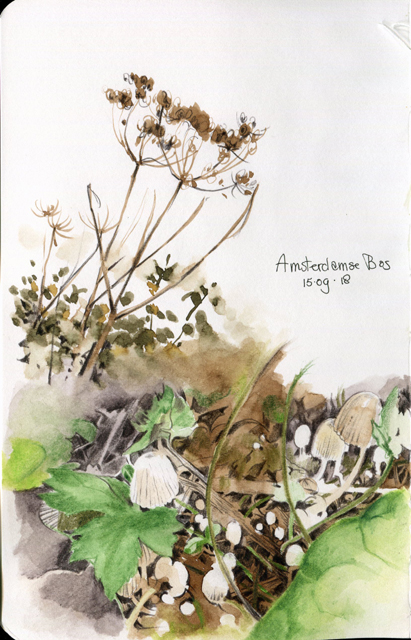 At first glance nothing and then they are everywhere, fairy caps, or trooping crumble
caps, or in Dutch 'zwerminktzwammen'.
Add a comment
Details

Hits: 781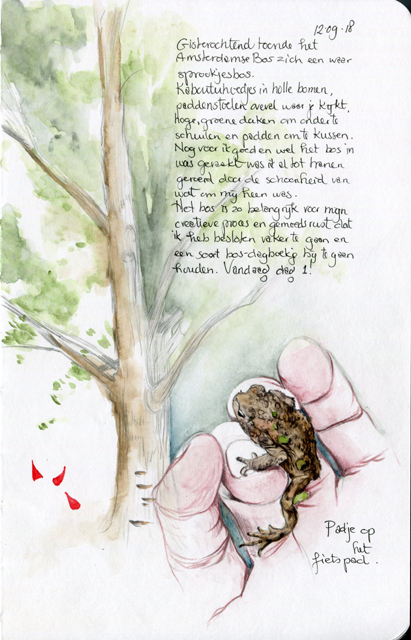 Last September I started a new project, a Forest Diary. It's not going to have daily entries,
it's going to be a drawn note of what I've seen during my walks.
Since nature is so important to me (and the world!) and such a great inspiration I want
to make a fun diary in which I draw the things I saw in the woods on that particular day.
The first entry is about red gnome hats, toadstools, green rooftops and a little toad I found
on the bicycle path.
Add a comment
Details

Hits: 823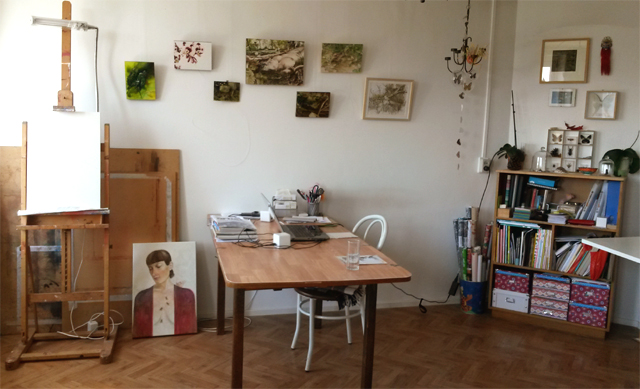 At this moment I have no idea what direction my life is going. Still not sure about what is
going to happen with my job and because of that not knowing if and when I will need to start
giving my own classes.
A few things I do know, I need to paint, draw and print what I want or need to make.
Last couple of years I started to do the 'business-thing'.
Writing my blog every week, keeping my website up to date, sending out monthly
newsletters, having a webshop, start on Etsy and Society6, posting on Facebook, posting on
Instagram etc. etc.
But in the end it didn't do much for me. It just costs me very important making time…
So I might become a bit more silent online, I just want to make, I don't want to take into
account size, colour, what people might like or dislike. Just make.
Add a comment
Details

Hits: 1422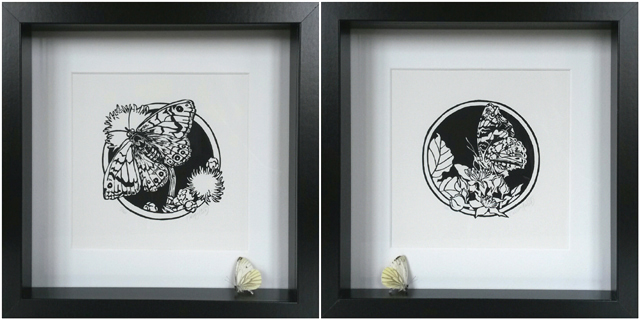 Last Friday Linda Rusconi and I had our Print Pop-up Shop and it was lots of fun. We probably
will organize something like it again!

During that day I printed three different butterflies: the Lime Hawk-moth, the Red Admiral
(Atalanta) and the Wall Brown of which I like the Dutch name better being Argus butterfly.
Named after Argus Panoptes, the giant from Greek mythology whose body was covered with
100 eyes of which not two would sleep at the same time.
The Argus butterfly has two prominent "eyes" which show when its wings are folded up.

This Sunday, June 24th, I'm showing my art at Artplein Spui Amsterdam and I framed two of
three butterflies which I will bring.
Next to that I will bring my complete Sleeping Animals series, both framed and unframed , all
three butterflies and much more. Hope to see you then!
Add a comment
Details

Hits: 1250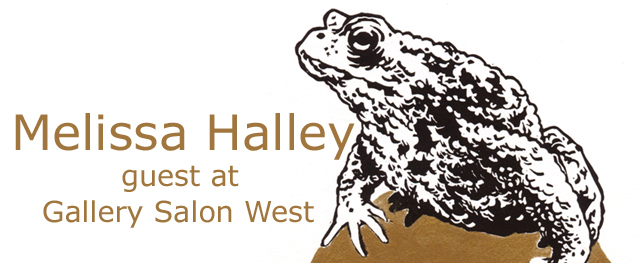 Artist Linda Rusconi, connected to Gallery Salon West, invited me to join her for a one day
Print Pop-Up Shop Friday June 15th.

For this special occasion, Linda and I will be cutting and printing linocuts. Next to being
present at the manufacturing process there are also original prints for sale.
All my resent prints like my Sleeping Animals series, the Frog Prince and my Sleeping
Animals greeting cards will be available that afternoon.

Salon West is a gallery in Amsterdam-West. Four artists independently exhibit their work,
including Linda Rusconi. Linda's erotic risoprints also will be available that day.

You are most welcome on Friday June 15th between 13:00 and 18:00 at:

Gallery Salon West
Admiraal de Ruijterweg 9
1057 JT Amsterdam

On Facebook? Here you will find the Facebook event for the Print Pop-Up Salon West.
Add a comment
Details

Hits: 1503