This one was a challenge. Just a bundle of fur and only light and dark to make it the sleepy
dormouse that it is.
Tomorrow I'll know whether or not I did succeed…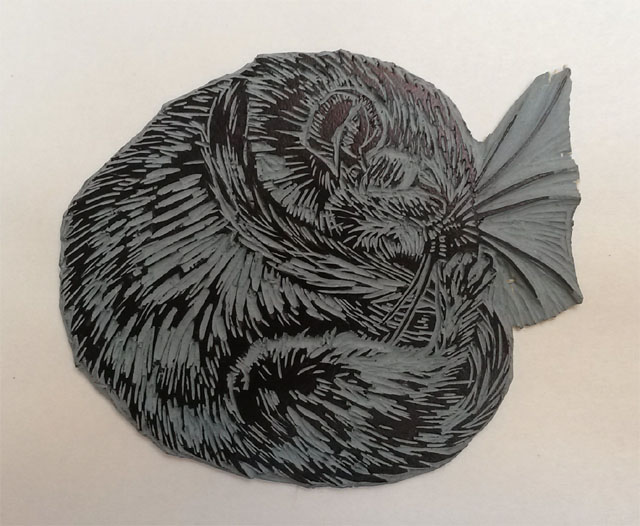 Add a comment
Details

Hits: 852
Cutting is so much more work than printing (I'm only going to print 15 of each)!
I was very happy to start a little early or I wouldn't have finished in time for printing day
today. Also happy with the result, it makes me want to curl up and…
No, stop, no time for hibernating!!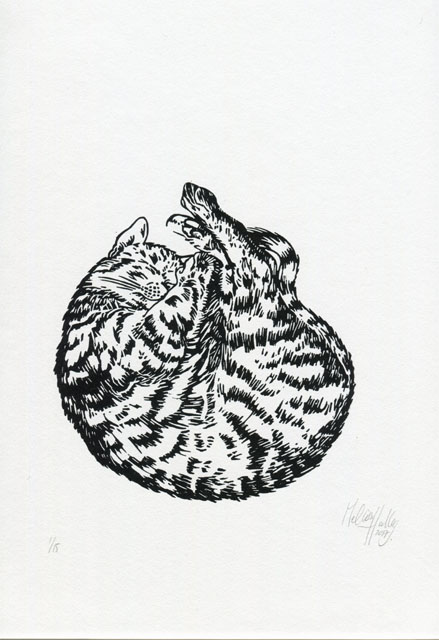 Sleepy Cat, Linocut, 30x24 cm, 2017
Add a comment
Details

Hits: 1639
This is the 3rd time I'm participating in Leslie Saeta's '30 Paintings in 30 Days' challenge
except this time I'm not painting and not creating 30 works of art.
I've been planning to pick up lino cutting for a while so I rename the challenge:
'15 Lino's in 30 Days'!
Cut one day, print the next.
The idea of these challenges is to create more art than you normally would, learn, have fun
and start the new year creative and productive. In a time you would rather stay in bed and
hibernate all winter do a project instead.
This idea inspired me to the following theme: hibernation/ sleep. All 15 lino's will be of sleepy,
curled-up animals.
First in the series is this cat. Tomorrow it's time to print!!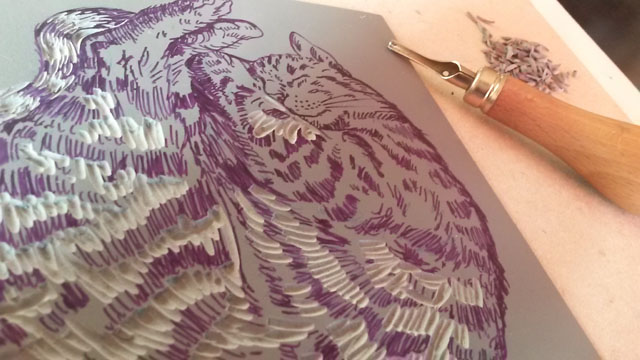 Add a comment
Details

Hits: 1613
September is only a few months behind us and it feels like I just finished the 30 Paintings in
30 Days Challenge during which I drew/ painted in the Amsterdamse Bos (Amsterdam Forest)
for 30 days.
Now January is upon us and again the 30 Paintings in 30 Days challenging days are nigh.
This time I decided to do something different. I've been planning to pick up lino cutting for the
longest time so for next January I rename the challenge: '15 Lino's in 30 Days'!
Why 15 and not 30? That would be a little too much next to impossible. If I would cut
teeny-tiny lino's it could be possible but I want a nice size, 15 x 15 cm maximum. So 15 it is.
Cut one day, print the next.
Good preparation is key. I'm going to make drafts first, cut the linoleum to the right size.
Make sure I have enough paper and so on. I decided on a theme too and it's going to star
just animals.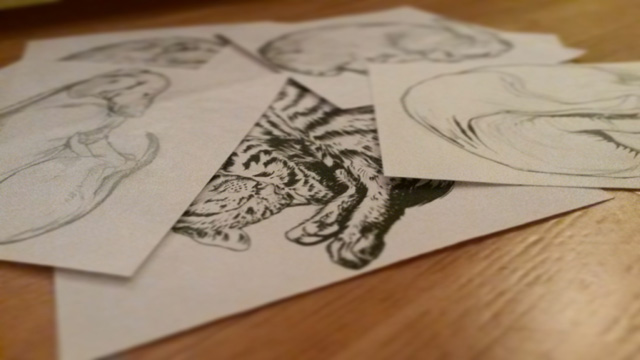 Add a comment
Details

Hits: 858
You can prepare for an (art) event all you want but some things are just out of your hands.
The ArtWest Open Studio weekend was promoted quite well by the organisation.
I properly framed all art I wanted to show. I send out invitations via e-mail, via Facebook,
I put the event on my website, wrote a blog about it, shared it a couple of times on
Facebook… We cleaned the studio, hung the art (it looked quite good I think), bought drinks and
snacks, we had a massive flag waving for attention, the door stood wide open…
But then on Saturday there was rain, lots of rain and Sunday there was a storm and only a few
people dared to venture out of their warm, cosy homes.
Saturday we had 36 visitors and Sunday 46, considering the weather not that bad but still, if
the weather had been nice the turnout had been much higher. From our group of 5 I was the
only one who did not sell.
That evening wasn't very pleasant. I doubted myself and my work. Was my attitude too much
'wait-and-see'? Should I jump people when they enter the studio (something I hate when people
do that to me in shops etc.). Was my art just bad/ weird/ unmarketable? Did I present it wrong?
What did I do wrong??
Sunday, at the end of the event our group of Grafisch Collectief Thoets decided to prolong
our open studio to next Sunday. We would again invite everybody and hope for better weather.
The weather was nice, a lot of people who couldn't make it the weekend before came by
and I sold some small things. Happy.
I need to remember that there's nothing wrong with my artwork, I just need to reach the right
people.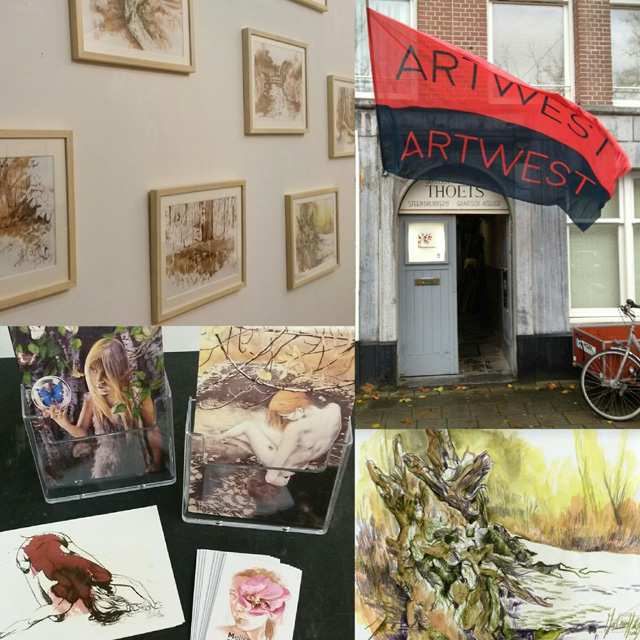 Add a comment
Details

Hits: 508