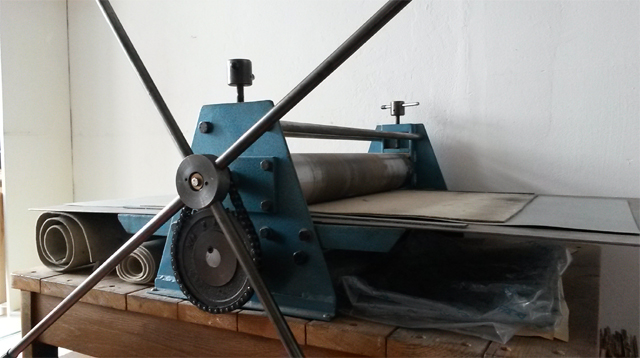 Lost my paid job again… Every 1,5 to 2 years I lose my job for different reasons. Companies
go broke, kids grow up, I got a burn out and now I don't even know what happened… So much
for the security of having a "steady" paid job.
I must confess I'm getting sick and tired of starting over and over again and again.
This way I'm just really busy finding jobs, learn the thing and finding a new job again instead of
focussing on my art and getting somewhere with that…
Next to that my art is going slow, I hardly sell anything and get even less commissions than
that.

Now I've been thinking about starting printing classes from my home which is also my studio.
Trying to figure out how many hours I should start teaching. Trying to figure out how many
people I can seat. Looking at the place now I think 7 maximum. I will be needing chairs…
Any thoughts and/ or tips??
Add a comment
Details

Hits: 1149

My watercolour 'Toad with Cherry Blossom Petals' was the first watercolour I did on paper
that I mounted on panel. Read my article Mounting Paper on Wood on that.

This time I'm using a 12 mm thick MDF panel. As for now I taped the sides and gessoed the
front. Next is sanding the surface, remove any dust and glue the watercolour paper to the
panel.

When you mount paper on wood/ MDF there should be a protective layer of gesso between
the wood and paper because the acidic properties of wood will destroy the paper.

Also read the very elaborate blogpost by Kelly McKernan on mounting paper onto panel.
Her post was a great help.
Add a comment
Details

Hits: 1023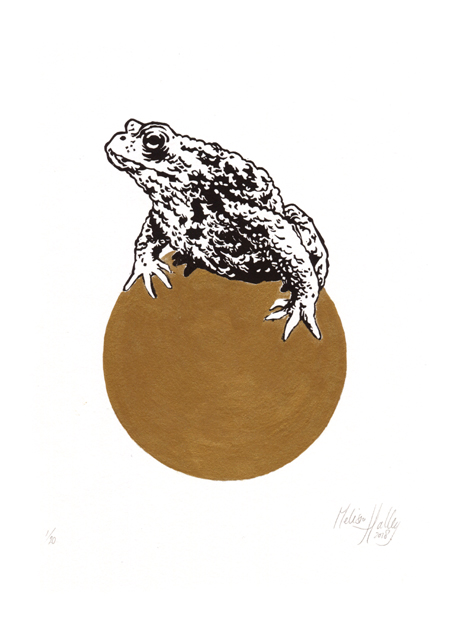 The Frog Prince is ready to be send out into the world and he can't wait to be kissed by his
princess or prince!
The Frog Prince is a two colour linoprint printed in a very limited edition of only 20 prints.
You can find the Frog Prince in my webshop and also in my EtsyShop for only € 75,-.

And did you know I'm on Society6?! You can order all kinds of merchandise with my art on it,
for instance my Frog Prince 



Frog Prince
2018
Linoprint
Colour: black & gold printing ink
Paper size: 30 x 24 cm
Plate size: 20 x 15 cm
Edition of 20
Add a comment
Details

Hits: 929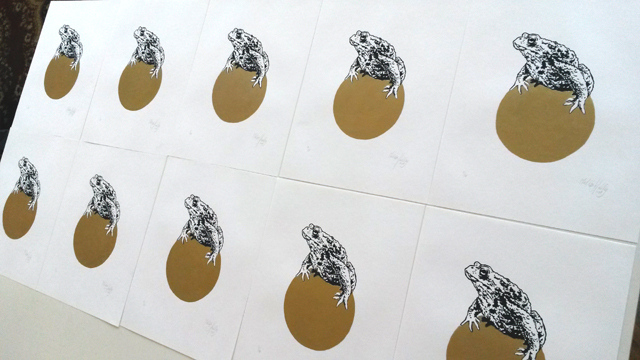 My Frog Prince is signed and numbered in a limited edition of 20. He still has a little drying
to do and then he's ready for shipping!!
Add a comment
Details

Hits: 1122

a) Linocut cut in two, b) Lino inked and put together again, c) Test print with baren by Woodzilla

Yesterday I printed the edition of The Frog Prince I started drawing a month ago. 
From the beginning I planned to print the frog in black and the ball in gold ink, since it is the
golden ball that belongs to a certain princess who accidentally dropped it in a well.
I wasn't sure how I would do this and in the end I decided to cut the print in two (which was
quite a delicate endeavour) and print them at the same time.
So I would separately apply black ink to the frog, gold ink to the ball and then puzzle the two
parts together (which again, was a very delicate endeavour) and print them by hand.
The baren I used for printing was made by Jan Elzinga or Woodzilla, you can find his Etsy shop here.
Add a comment
Details

Hits: 1228