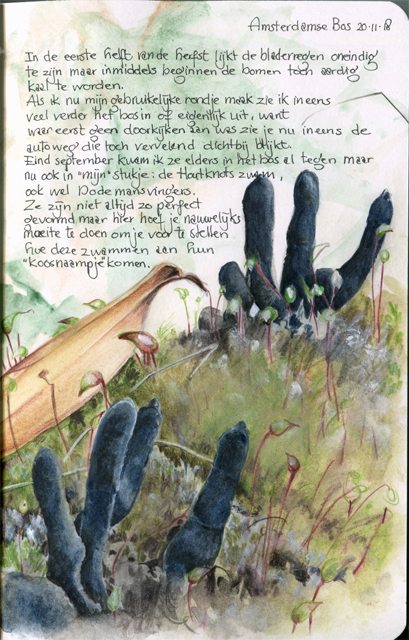 First half of autumn it seems the fall of leaves is never ending but at this time the trees are
starting to get pretty bare.
When I walk my usual route I can see much further into the forest or actually out. The road
turns out much closer than I pretended it to be.
At the end of September I came across them elsewhere in the forest but now also on "my"
route: the Xylaria Polymorpha or Dead Man's Fingers 🍄
They're not always this perfectly shaped but in this case you don't need much imagination to
understand how this fungus came by its "pet name" 😉
Add a comment
Details

Hits: 946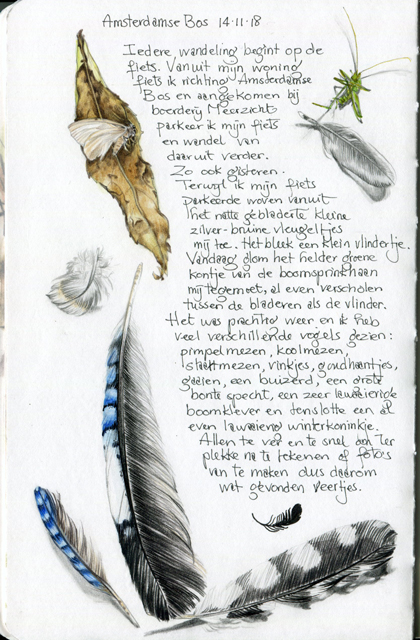 Every forestwalk starts on my bike. From my home I cycle to the Amsterdam Forest and park
my bike at farm & pancake restaurant Meerzicht. From there I start my walk.
Last week, as I parked my bike, small silver-brown wings waved at me from the wet foliage.
It turned out to be a small butterfly 🦋
The next day the bright green hiney of a bush-cricket gleamed at me from under some leaves 🍂
That day was such a beautiful day and I saw so many different birds: blue tits, great tits,
long-tailed tits, chaffinches, goldcrests, jays, a buzzard, a pied woodpecker, a very noisy
nuthatch and finally an equally noisy wren 🎶
They were too far or too fast to draw on the spot or to take pictures so here are some feathers
they left behind 🍃
Add a comment
Details

Hits: 754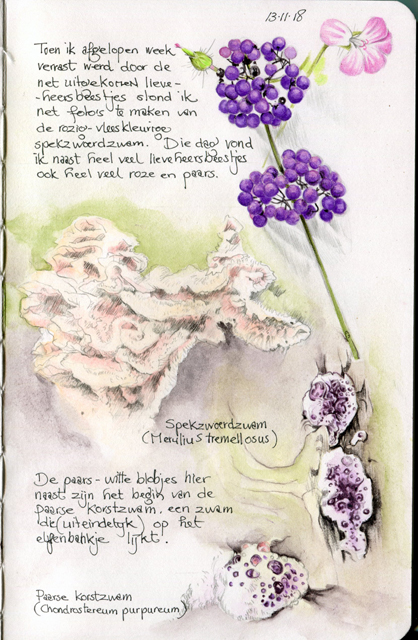 Last week I was surprised by a swarm of newly hatched ladybugs.
When this happened I was actually busy taking pictures of the Trembling merulius or Jelly rot.
Besides a lot of ladybugs I also found a lot of pink and purple.
The purple/ white blobs down to the right are the begining of the Silver Leaf fungus which is
(eventually) going to look like a purple "Turkey tail" or in Dutch 'elfenbankje' (elves bench).
Add a comment
Details

Hits: 765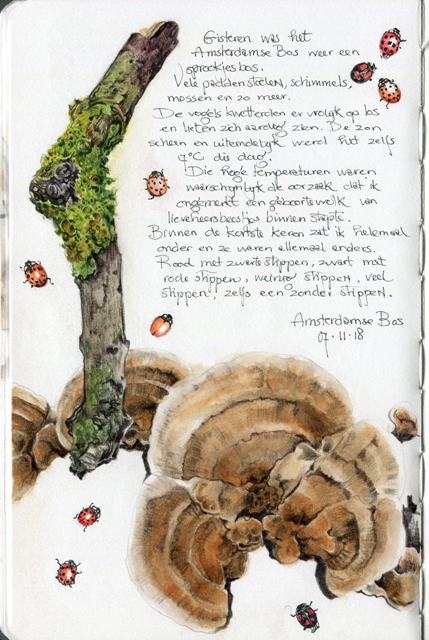 Today I found myself in a cloud of just hatched ladybugs. They were everywhere!!
I'm guessing high temperatures (17° C/ 62.60°F) were the cause of the sudden
appearance of these colourful beetles 🐞🐞
Add a comment
Details

Hits: 802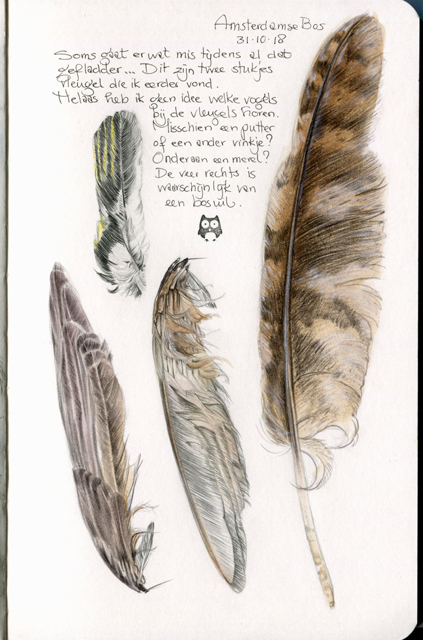 Sometimes something goes wrong during all that fluttering...
I found these wing parts earlier. Unfortunaly I have no idea which birds belong to these wings.
Maybe a goldfinch or some other finch?
The one at the bottom could be a blackbird.
The feather on the right is probably from a tawny owl 🦉
Add a comment
Details

Hits: 765