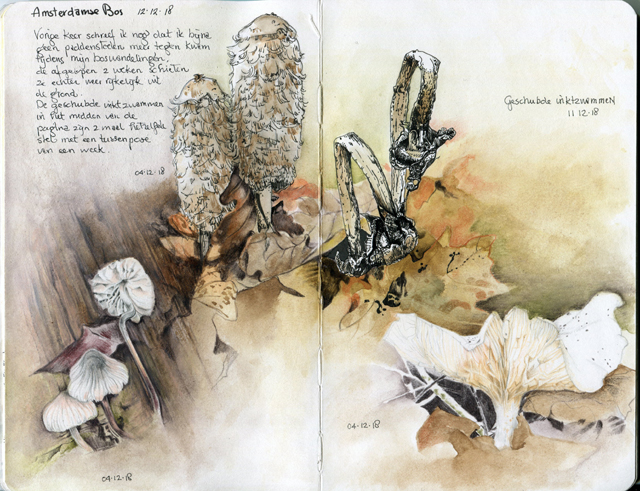 Last time I wrote I hardly saw any fungi anywhere but for the past two weeks they've
been popping up like crazy 😊
The shaggy inkcap couple in the middle of the page is the same couple with a one-week
interval 🍄

🍃🍂


Add a comment
Details

Hits: 1817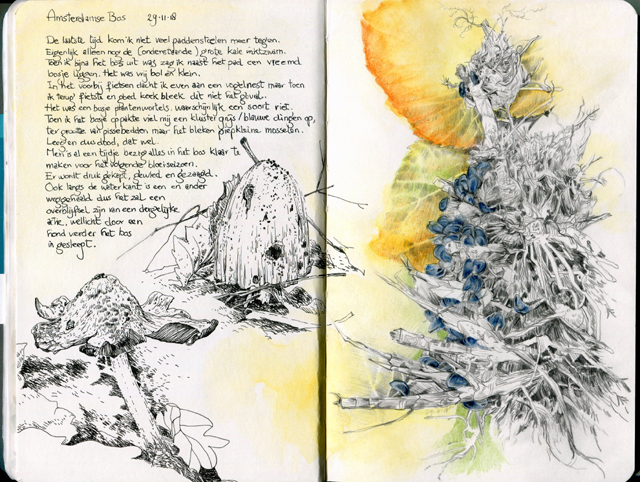 Lately I haven't seen a lot of mushrooms, just the Common ink cap or Inky cap.
Leaving the Amsterdam Forest I noticed a weird looking bushy thing next to the bicycle path.
It was roundish and quite small.
At first I thought it was a bird's nest but when I cycled back and gave the thing a proper look it
ended up being a bunch of roots. Probably some kind of reed.
When I picked it up I noticed a cluster of gray blueish things the size of woodlice but it turned
out to be tiny mussels! 
Very empty and very dead.
Maintenance has been very busy preparing the forest for the flowering season. They've been
cutting, weeding and sawing. Also along the waterfront. So this find is probably a remnant of
that dragged into the forest by a dog 😄

🍃🍂


Add a comment
Details

Hits: 1817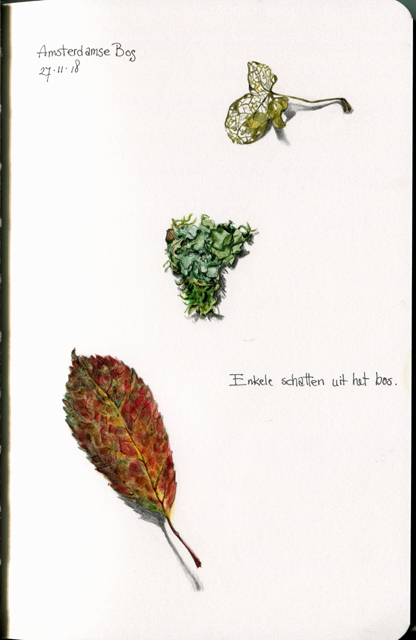 Today just a few forest treasures I found the other day 🌳🍂🍃 

🍃🍂


Add a comment
Details

Hits: 1831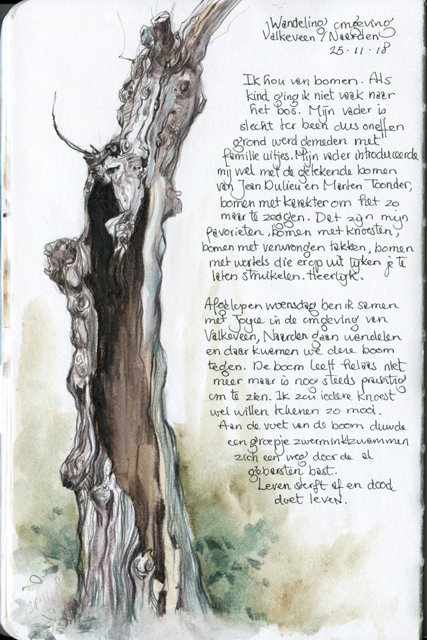 I love trees. As a child I did not go to forests very often. My father has difficulty walking, so
uneven ground was avoided during family outings. My dad did introduce me to the drawn
trees by Jean Dulieu and Marten Toonder. Trees with character so to say.
These are my favourites, trees with knots, trees with twisted branches, trees with roots that
seem out to have you trip over them.
🌳
Last Wednesday my friend Joyce and I went out for a walk in the surroundings of Valkeveen,
Naarden and we came across this tree. Unfortunately this tree has passed but it's still
beautiful, I would like to draw every knot.
At the foot of the tree a group of fairy inkcaps pushed their way through the already
cracked bark.
Life dies off and gives life again🍃

🍃🍂


Add a comment
Details

Hits: 1822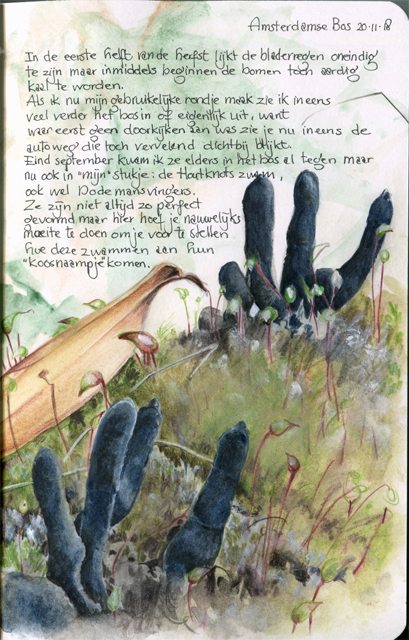 First half of autumn it seems the fall of leaves is never ending but at this time the trees are
starting to get pretty bare.
When I walk my usual route I can see much further into the forest or actually out. The road
turns out much closer than I pretended it to be.
At the end of September I came across them elsewhere in the forest but now also on "my"
route: the Xylaria Polymorpha or Dead Man's Fingers 🍄
They're not always this perfectly shaped but in this case you don't need much imagination to
understand how this fungus came by its "pet name" 😉

🍃🍂


Add a comment
Details

Hits: 1709