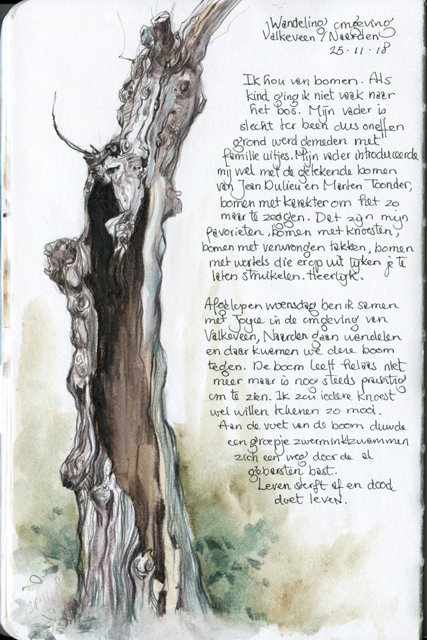 I love trees. As a child I did not go to forests very often. My father has difficulty walking, so
uneven ground was avoided during family outings. My dad did introduce me to the drawn
trees by Jean Dulieu and Marten Toonder. Trees with character so to say.
These are my favourites, trees with knots, trees with twisted branches, trees with roots that
seem out to have you trip over them.
🌳
Last Wednesday my friend Joyce and I went out for a walk in the surroundings of Valkeveen,
Naarden and we came across this tree. Unfortunately this tree has passed but it's still
beautiful, I would like to draw every knot.
At the foot of the tree a group of fairy inkcaps pushed their way through the already
cracked bark.
Life dies off and gives life again🍃

🍃🍂


Add a comment
Details

Hits: 2862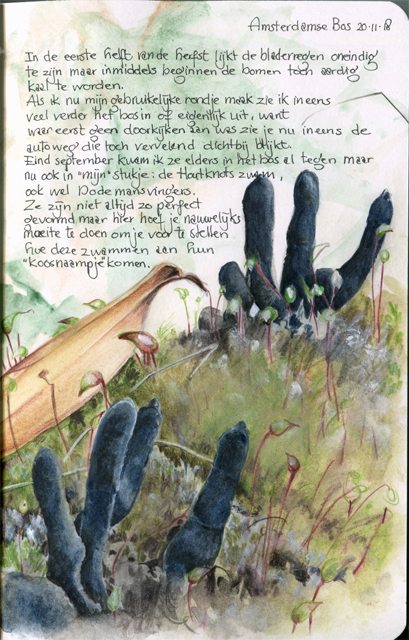 First half of autumn it seems the fall of leaves is never ending but at this time the trees are
starting to get pretty bare.
When I walk my usual route I can see much further into the forest or actually out. The road
turns out much closer than I pretended it to be.
At the end of September I came across them elsewhere in the forest but now also on "my"
route: the Xylaria Polymorpha or Dead Man's Fingers 🍄
They're not always this perfectly shaped but in this case you don't need much imagination to
understand how this fungus came by its "pet name" 😉

🍃🍂


Add a comment
Details

Hits: 2735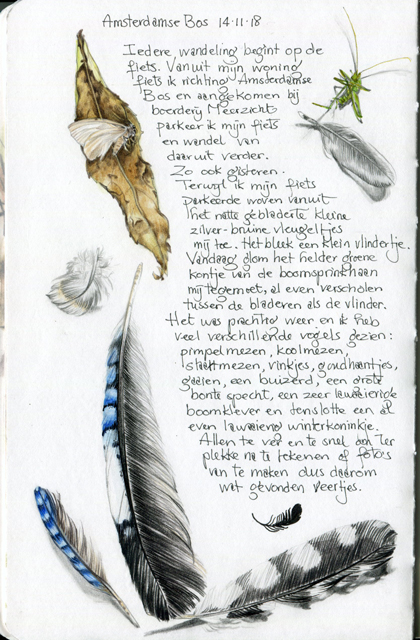 Every forestwalk starts on my bike. From my home I cycle to the Amsterdam Forest and park
my bike at farm & pancake restaurant Meerzicht. From there I start my walk.
Last week, as I parked my bike, small silver-brown wings waved at me from the wet foliage.
It turned out to be a small butterfly 🦋
The next day the bright green hiney of a bush-cricket gleamed at me from under some leaves 🍂
That day was such a beautiful day and I saw so many different birds: blue tits, great tits,
long-tailed tits, chaffinches, goldcrests, jays, a buzzard, a pied woodpecker, a very noisy
nuthatch and finally an equally noisy wren 🎶
They were too far or too fast to draw on the spot or to take pictures so here are some feathers
they left behind 🍃

🍃🍂


Add a comment
Details

Hits: 2444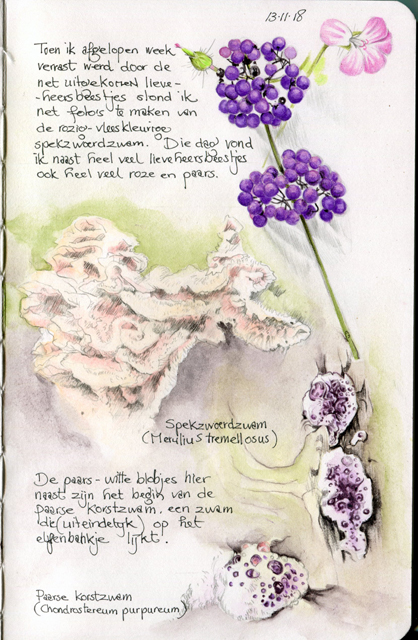 Last week I was surprised by a swarm of newly hatched ladybugs.
When this happened I was actually busy taking pictures of the Trembling merulius or Jelly rot.
Besides a lot of ladybugs I also found a lot of pink and purple.
The purple/ white blobs down to the right are the begining of the Silver Leaf fungus which is
(eventually) going to look like a purple "Turkey tail" or in Dutch 'elfenbankje' (elves bench).

🍃🍂


Add a comment
Details

Hits: 2551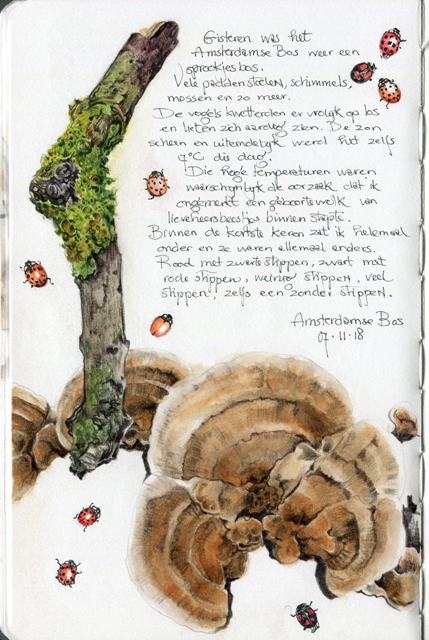 Today I found myself in a cloud of just hatched ladybugs. They were everywhere!!
I'm guessing high temperatures (17° C/ 62.60°F) were the cause of the sudden
appearance of these colourful beetles 🐞🐞

🍃🍂


Add a comment
Details

Hits: 2485