My watercolour 'Toad with Cherry Blossom Petals' was the first watercolour I did on paper
that I mounted on panel. Read my article Mounting Paper on Wood on that.

This time I'm using a 12 mm thick MDF panel. As for now I taped the sides and gessoed the
front. Next is sanding the surface, remove any dust and glue the watercolour paper to the
panel.

When you mount paper on wood/ MDF there should be a protective layer of gesso between
the wood and paper because the acidic properties of wood will destroy the paper.

Also read the very elaborate blogpost by Kelly McKernan on mounting paper onto panel.
Her post was a great help.
Add a comment
Details

Hits: 581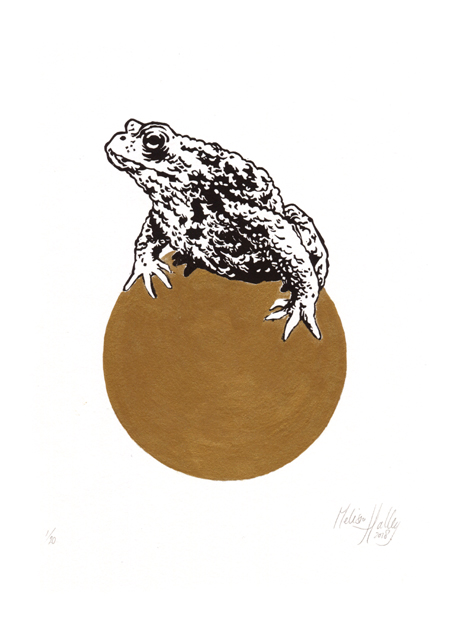 The Frog Prince is ready to be send out into the world and he can't wait to be kissed by his
princess or prince!
The Frog Prince is a two colour linoprint printed in a very limited edition of only 20 prints.
You can find the Frog Prince in my webshop and also in my EtsyShop for only € 75,-.

And did you know I'm on Society6?! You can order all kinds of merchandise with my art on it,
for instance my Frog Prince 



Frog Prince
2018
Linoprint
Colour: black & gold printing ink
Paper size: 30 x 24 cm
Plate size: 20 x 15 cm
Edition of 20
Add a comment
Details

Hits: 528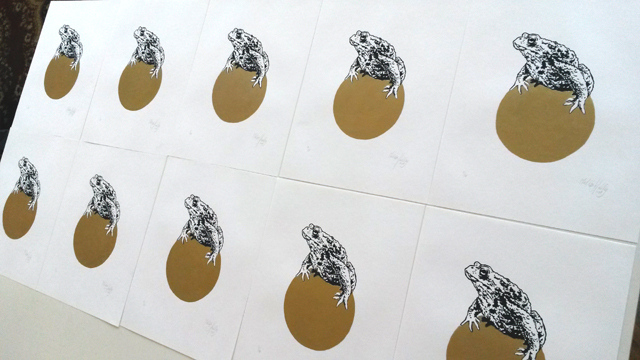 My Frog Prince is signed and numbered in a limited edition of 20. He still has a little drying
to do and then he's ready for shipping!!
Add a comment
Details

Hits: 697

a) Linocut cut in two, b) Lino inked and put together again, c) Test print with baren by Woodzilla

Yesterday I printed the edition of The Frog Prince I started drawing a month ago. 
From the beginning I planned to print the frog in black and the ball in gold ink, since it is the
golden ball that belongs to a certain princess who accidentally dropped it in a well.
I wasn't sure how I would do this and in the end I decided to cut the print in two (which was
quite a delicate endeavour) and print them at the same time.
So I would separately apply black ink to the frog, gold ink to the ball and then puzzle the two
parts together (which again, was a very delicate endeavour) and print them by hand.
The baren I used for printing was made by Jan Elzinga or Woodzilla, you can find his Etsy shop here.
Add a comment
Details

Hits: 678

Last Easter Sunday was my first time back at Artplein Spui after almost 2 years. I was quite
nervous about returning. A day like that runs more smoothly when you're in your routine and
I feared I had lost just that after being away for a time.
The day starts early packing my bag, bringing food, tea etc and dressing like it's way below
zero (Celsius) because being out all day is pretty cold most of the time. Then I get on my
bike and go to my studio at the Nassaukade where I have my cargo bike loaded with my art,
my high fold up chair, lamps, plastic back- and side cover and 3 big pieces of cloth to cover the
stands' table, front and back, and much much more. All in all the cargo bike is pretty heavy.
It's always an adventure to manoeuvre it through the centre of Amsterdam.
Next stop is Spui square where the empty stands are ready for "dress-up". This takes about
between an hour or an hour and a half depending on any help, how much stuff you
have and routine… It took me quite a while because I don't have any help and my routine
was a bit rusty but when everything was ready it felt like I never had been away.
It was good to see so many familiar faces and so nice to meet fun new colleagues like
Marije Dijkema and Cil Laurens.
The reason why I stopped presenting my art at Artplein Spui was because I was spending more
money than would come in… I think most people who come across the Spui stumble on
the artmarket by accident, they're just pass by or going from A to B. They're not prepared to
spend a lot of money.
That's why I decided not to bring any of my drawings or paintings, just my lino prints and
some dry point etchings, all between € 20,- and € 100,- which I think is very affordable. Next to
that I brought my Sleeping Animal cards and some hand stamped cards I recently made.
I also brought some test prints of the tote bag I'm working on (ink is still not dry!). I sold one
bag to a friend but you won't see the bags back at Artplein Spui because I'm not allowed to sell
them there.
Next to my illegal bag I sold 5 cards which is pretty depressing I think. Again, spending more
than is coming in…
I don't want to quit after just one foul ball but it reminds me of what I recently heard on a
podcast I like to listen to: Your Creative Push. Presenter Youngman Brown interviewed
Cindy Hohman of the Art Marketing Project. She said you don't only have to know who your
audience is but you can actually choose your audience. And just maybe my audience is not to
be found at Artplein Spui and just maybe I should stop looking for my audience there…
Add a comment
Details

Hits: 771