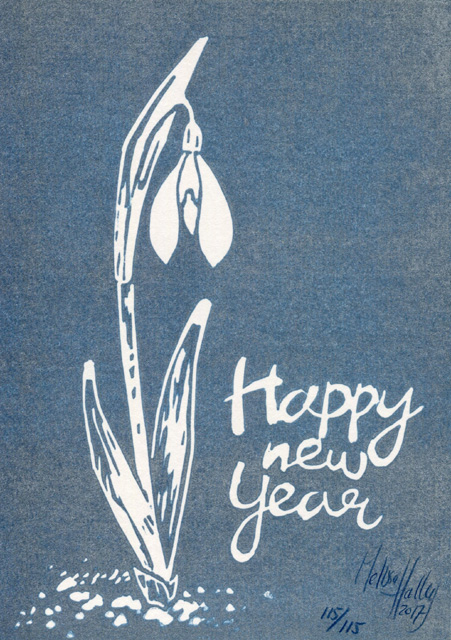 🍃🍂
Add a comment
Details

Hits: 2804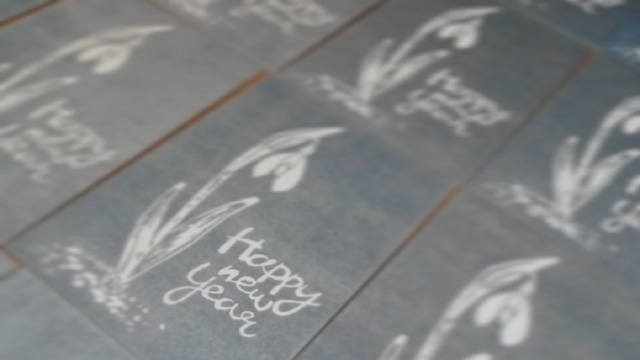 Every year I make a New Years print for everyone who bought original art by me.
This year I decided on a single snowdrop. That precious little flower that pops up first
foreboding spring when nature is still quite cold. I love the promise it represents.

The ink I used for this print is a mix of silver and Prussian blue. I added the blue to make the
colour a bit darker and more diverse. Funny thing was when I moved the ink around with my
palette knife or ink roller it would look blue, when left alone it would turn silver again.

🍃🍂


Add a comment
Details

Hits: 2666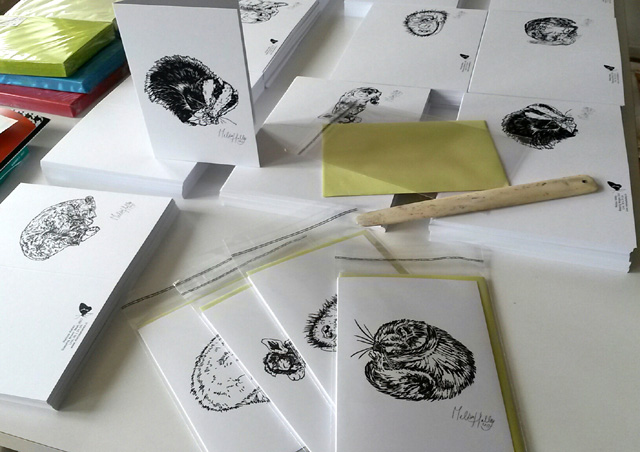 Yay! Thanks to a couple of really nice people who pre-ordered my 10 then still to be printed
greeting cards of the '15 Lino's in 30 Days' series I was able to actually have them printed!
Now the whole series of Sleeping Animals is complete and for sale at my webshop



Last January I did the '15 Lino's in 30 Days' project as a part of Leslie Saeta's project
'30 Paintings in 30 Days' which she does every January and September.
Cutting and printing 30 would be too much so I decided on 15. The project was a success.
I managed to do all 15 lino's, people liked them and I had some sales.
The perfect project to turn into a series of greeting cards I thought but having them made
all at once would be an expensive endeavour so I decided on printing a third.

Since I have an Open Studio coming up on the 12th of November I thought it would be nice to
have the series complete by then and I asked friends, family and followers to help me out.
So thank you Ron, Frans, Joyce, Siemen, Jos, Claudia and Jantiene for your (pre-) orders,
helping me to finance the remaining 10 cards.
And last but not least, thank you Peter Print for your great printing advice!

🍃🍂


Add a comment
Details

Hits: 3277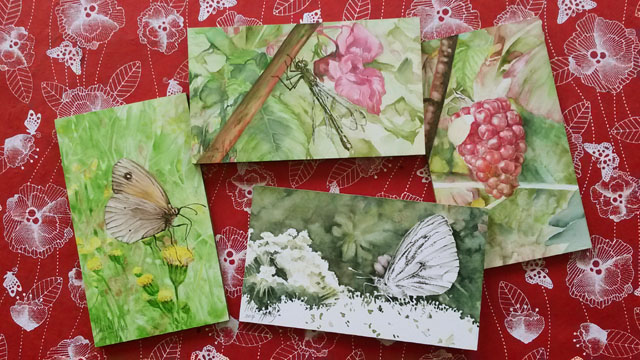 A little while ago I started a series of small watercolour paintings on Ampersand Encausticbord.
They are all 7,5 x 12,7 cm and based on pictures I took during the summer. The one on
the right, the raspberry, is not finished yet and I hope to do one more before my Open Studio
which will be at Sunday November 12th.

🍃🍂


Add a comment
Details

Hits: 3342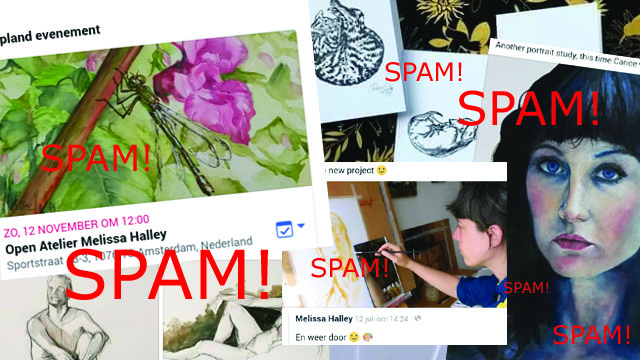 Recently I got accused of spamming and it kinda broke my heart.
The person who accused me of spamming is someone who repeatedly bought work of mine
and would be very engaged at events etc.
They accused me of sending out daily mails, which I don't, so I didn't understand what they
were talking about. There had to be a misunderstanding.
As it turns out they were not talking about mail but about Facebook updates, they advised me
not to have so many events and not to post daily, which again I don't and from a business
view maybe I should… 
Reading this explanation I felt hurt but I also got angry. I have lots of creative friends, almost
everything they post is about art, what they created that day, what inspires them or news
from the creative world they find important or interesting.
The reason why I post about my art is because that's what's important in my life, that's what I
love doing most.
Facebook is used to share about what's happening in your life and that's what I'm doing,
sharing about my life and my life is mostly about art. 
This person meant well but I think they were wrong to tell me what to do on Facebook.
I don't tell others not to share their plates of food as much, I don't tell others not to share
pictures of their runny nosed children, their pets, their depressed rants, their tireless selfies
or whatever. Their Facebook profile is theirs to use to their liking and need and if I don't like it I
can choose to ignore the post or even stop following this person. That's my choice, it's not
my place to tell others what they should or shouldn't do on Facebook. 
So, fair warning, I'm going to continue to post about (my) art and inspirations.
On Facebook, on Instagram, on my website and I'm even planning to pick up this blog again 



🍃🍂


Add a comment
Details

Hits: 3610