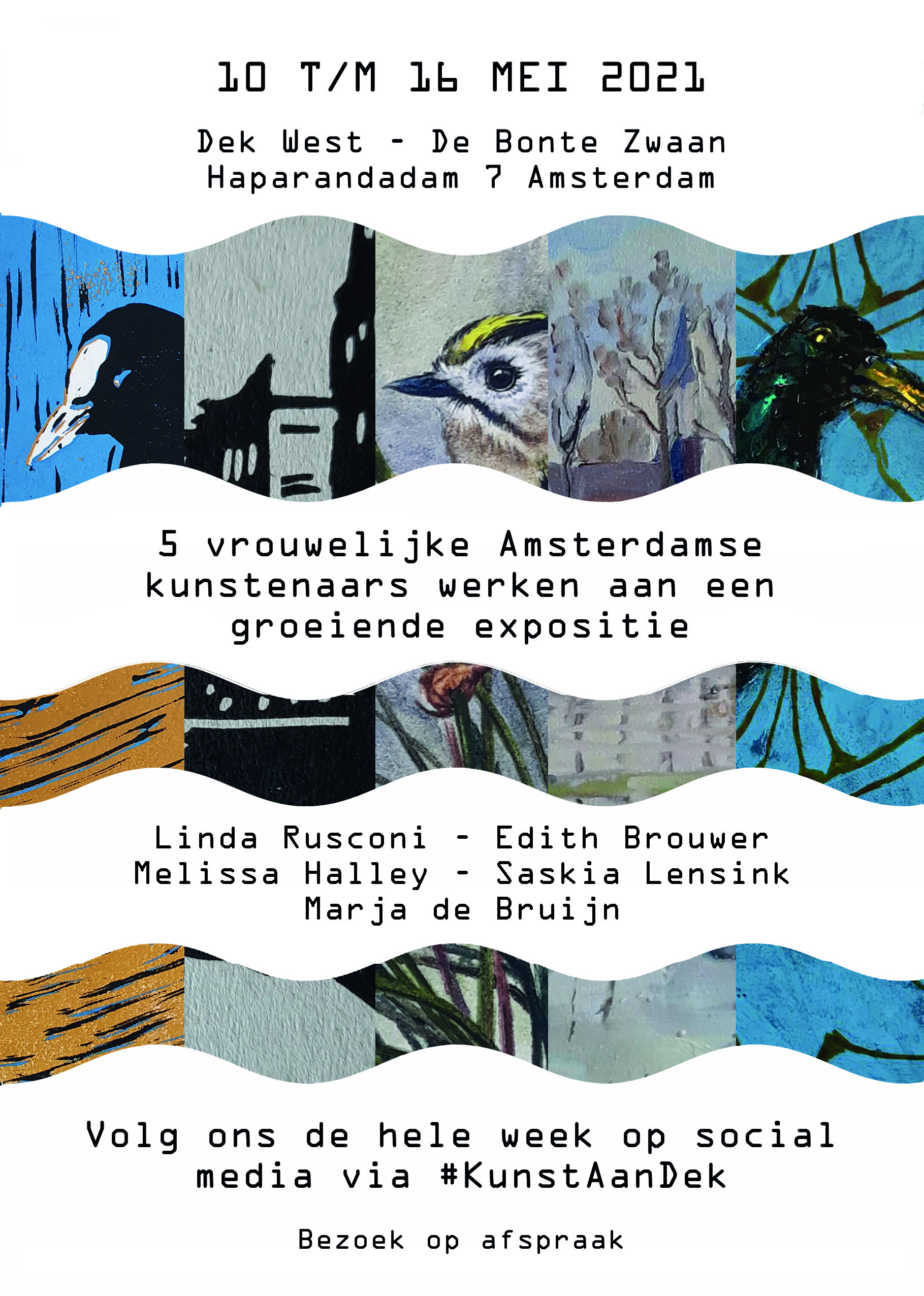 From Monday May 10th to Sunday May 16th I'll be participating for the second time in a
beautiful project with these wonderful ladies: Linda Rusconi, Edith Brouwer, Saskia Lensink
and Marja de Bruijn

.
From May 10th to May 16st we will be drawing/ painting/ printing at, and in the vicinity of,
De Bonte Zwaan, Amsterdam.
Every day we add our new work to the walls of 'Dek West'.
It's near water, so big, broad views instead of "cluttered" forests. It will be such a different
environment for me to draw & paint 🎨
You can follow our progress on Instagram by following #KunstAanDek 👩🏻‍🎨
We're open by appointment from Thursday May 13th to Sunday 16th, from 15:00 to 18:00 hours.
Curious? Send us an e-mail at

This email address is being protected from spambots. You need JavaScript enabled to view it.

and we'll make an appointment.
De Bonte Zwaan (Dek West)
Haparandadam 7
1013 AK Amsterdam
Add a comment
Details

Hits: 1441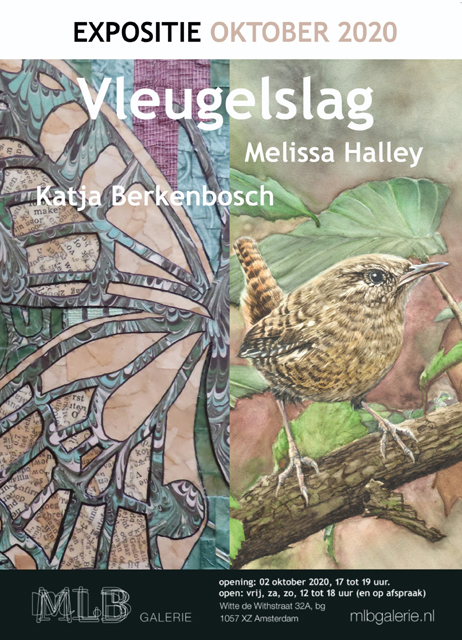 This october my friend and fellow artist Katja Berkenbosch and I will exhibit our latest work.
Katja Berkenbosch and Melissa Halley; two different artists who show three different
disciplines; watercolour, linoprints and paper art.
What they share - in addition to friendship - is an eye for detail, that which is vulnerable and
a connection with and longing for nature.
Katja and Melissa met at Artplein Spui where they showed their art, a friendship grew, as well
as recognition and a deepening interest in each other's work.
Both are members of the Sint Lucas Artists Association.
However, the Vleugelslag exhibition at MLB Gallery is the first time they will exhibit their art
together.
----------
The Vleugelslag exhibition can be visited throughout October. The gallery is open on
Friday, Saturday and Sunday (and by appointment).
During the entire exhibition, Katja and Melissa are present in the gallery on Saturday and
Sunday.
If you want to see Katja and / or Melissa on one of these days, it's best to let us know up front.
It is always possible that one of us has to leave a little earlier 😉
----------
Unfortunately due to covid-19 we can't have more than 6 guests at a time during the opening
on Friday October 2nd. 
That's why we decided to work with time slots of one hour during the opening.
Would you like to come by on October 2nd? Please let us know in time will reserve you a spot.
We look forward to seeing you at:
MLB Gallery
Witte de Withstraat 32A
1057 XZ Amsterdam

Opening: Friday October 2nd 17.00 - 19.00 hours

Open: Friday, Saturday and Sunday from 12.00 - 18.00 hours (and by appointment)

Add a comment
Details

Hits: 2079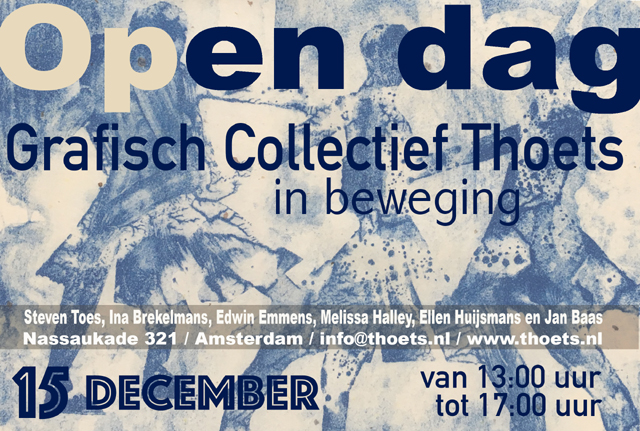 Open Studio day at my shared printing studio Grafisch Collectief Thoets!!

My colleagues and I will present our latest artwork this Sunday December 15th,
from 13.00 to 17.00 hours.
At: Nassaukade 321, Amsterdam
Add a comment
Details

Hits: 2529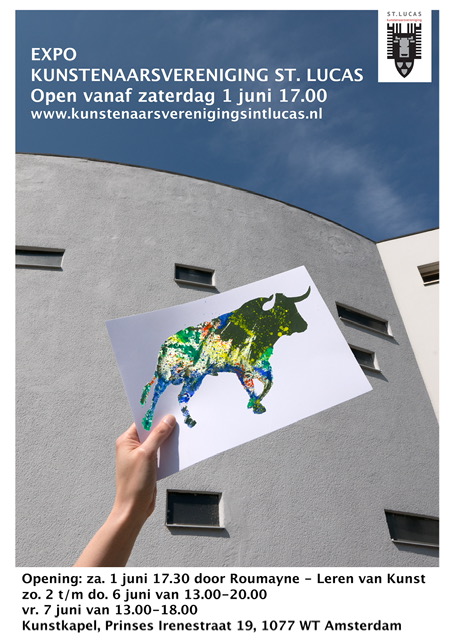 The member exhibition of Kunstenaarsvereniging Sint Lucas will take place from June
1st through June 7th 2019 at the Kunstkapel.
The opening will be performed by Roumayne Schepers (Leren van Kunst) at 17.30 hours.
The doors are open from 17.00 to 20.00 hours.

Participating artists:
Anneke Adama, Sook Bae, Katja Berkenbosch, Jeroen Bijl, Herman Deen, Jan van Dijk,
Sanneke Griepink, Cilia Groenveld, Sjoerdtje Hak, Melissa Halley, Chantal van Houten,
Wanda Janota, Cees Kaspersma, Tjits van der Kooij, Alison Korthals Altes, Tjeerd Landman,
Diane Lekkerkerker, Eva van Ooijen, Rud Perrée, Joke Plomp, Kees Reek, Hanneke Rijks,
Ruud Ritsma, Marjolein van Veen & Alex de Wolf.
I'm looking forward to see you on one of the days below:

Saturday June 1st 17.00 - 20.00 hours
Sunday June 2nd to Thursday June 6st 13.00 - 20.00 hours
Friday June 7th 13.00 - 18.00 hours
De Kunstkapel
Prinses Irenestraat 19 (above restaurant As)
1077 WT Amsterdam, Beatrixpark
Add a comment
Details

Hits: 2775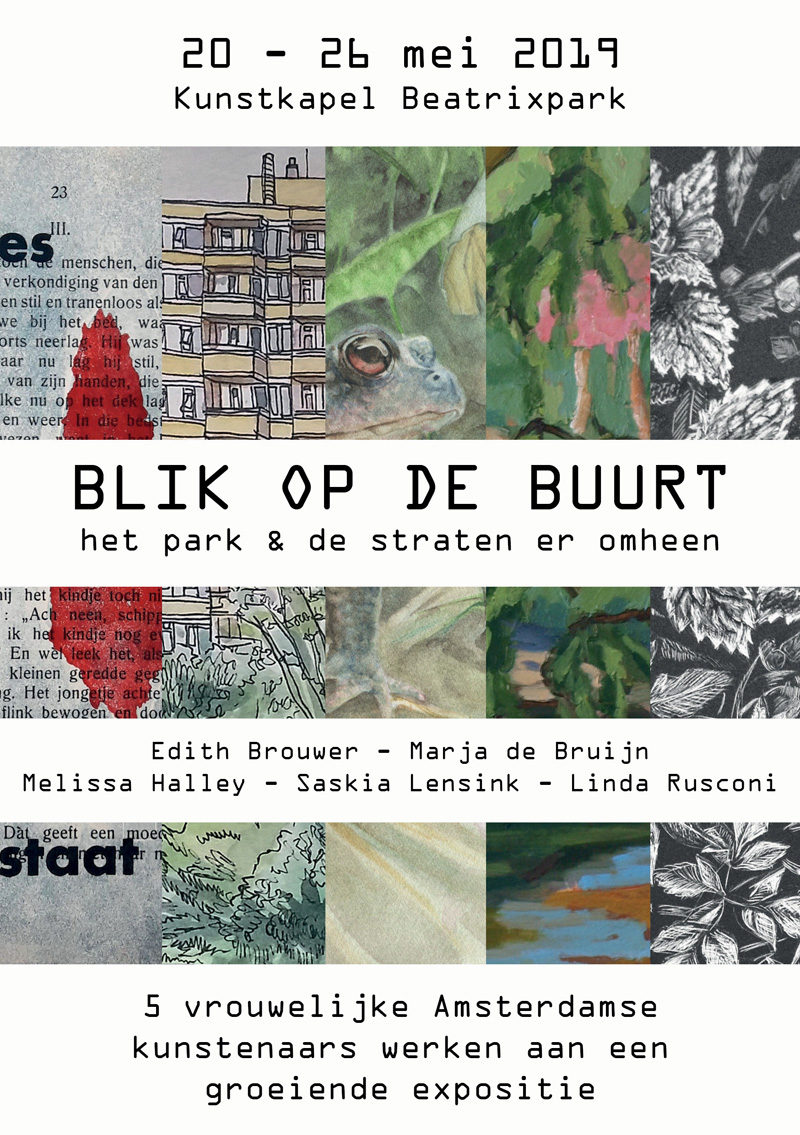 From May 20th to May 26st 2019 I will participate in a very nice project.
Together with artists Edith Brouwer, Marja de Bruijn, Saskia Lensink and Linda Rusconi I will be
exhibiting my art at the Kunstkapel (Art Chapel) at the Beatrixpark.
Everything will be based on and created day by day at the Beatrixpark so the exhibition will
literally grow every day.
We will be inspired by it's nature, the people and neighbourhood in and around the park.
All of us work in different techniques like drawing, painting, watercolour, printing and more.
You can follow our progress on the following dates:
- Wednesday May 22nd to Friday 24th - 15.00 to 17.00 hours.
- Saturday May 25th - 15.00 to 18.00 hours.
- Sunday May 26th we'll have a festive finissage from 15.00 to 18.00 hours.

This last festive day we'll add other artwork and other related items for sale in addition to the art
we made that week.
Interested?
Come and enjoy our process and results at:



Kunstkapel


Prinses Irenestraat 19-I
1077 WT Amsterdam 🎨



Add a comment
Details

Hits: 3022