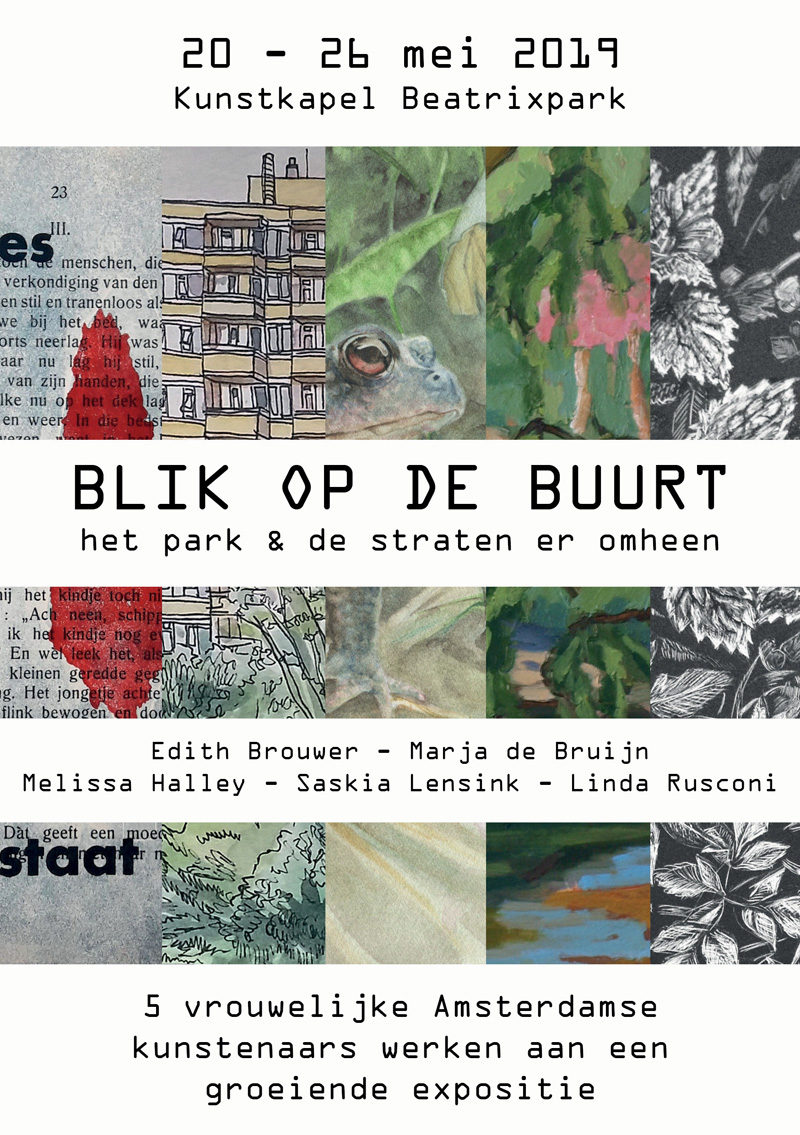 From May 20th to May 26st 2019 I will participate in a very nice project.
Together with artists Edith Brouwer, Marja de Bruijn, Saskia Lensink and Linda Rusconi I will be
exhibiting my art at the Kunstkapel (Art Chapel) at the Beatrixpark.
Everything will be based on and created day by day at the Beatrixpark so the exhibition will
literally grow every day.
We will be inspired by it's nature, the people and neighbourhood in and around the park.
All of us work in different techniques like drawing, painting, watercolour, printing and more.
You can follow our progress on the following dates:
- Wednesday May 22nd to Friday 24th - 15.00 to 17.00 hours.
- Saturday May 25th - 15.00 to 18.00 hours.
- Sunday May 26th we'll have a festive finissage from 15.00 to 18.00 hours.

This last festive day we'll add other artwork and other related items for sale in addition to the art
we made that week.
Interested?
Come and enjoy our process and results at:



Kunstkapel


Prinses Irenestraat 19-I
1077 WT Amsterdam 🎨



Add a comment
Details

Hits: 1769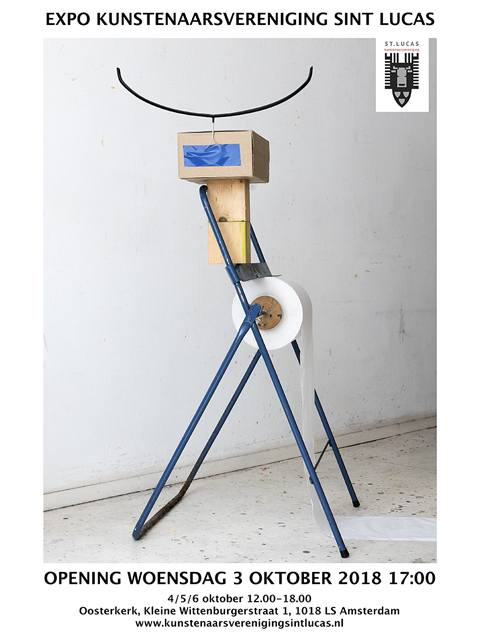 The member exhibition of Kunstenaarsvereniging Sint Lucas will take place from 3 to 6 October
2018 at the Oosterkerk.
During the opening on Wednesday 3 October at 5 pm a surprise event will take place at
approximately 5.30 pm. Make sure you're there.
Participating artists:
Sook Bae, Sjanie Bon, Jeroen Bijl, Herman Deen, Sjoerdtje Hak, Melissa Halley, Patty van Hoften,
Tjeerd Landman, Diane Lekkerkerker, Eva van Ooijen, Joke Plomp, Kees Reek, José Samson,
Caro Schaars, Margreet Scholten, Dieuwke Tamsma and Alex de Wolf.
I'm looking forward to see you on one of the days below:
Wednesday 3 October 5.00 pm - 7.00 pm
Thursday 4 October 12.00 - 18.00
Friday 5 October 12.00 - 18.00
Saturday, 6 October 12.00 - 18.00
Oosterkerk
Kleine Wittenburgerstraat 1
1018 LS Amsterdam
Add a comment
Details

Hits: 2290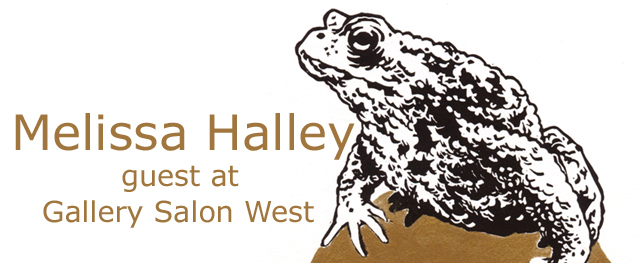 Artist Linda Rusconi, connected to Gallery Salon West, invited me to join her for a one day
Print Pop-Up Shop Friday June 15th.

For this special occasion, Linda and I will be cutting and printing linocuts. Next to being
present at the manufacturing process there are also original prints for sale.
All my resent prints like my Sleeping Animals series, the Frog Prince and my Sleeping
Animals greeting cards will be available that afternoon.

Salon West is a gallery in Amsterdam-West. Four artists independently exhibit their work,
including Linda Rusconi. Linda's erotic risoprints also will be available that day.

You are most welcome on Friday June 15th between 13:00 and 18:00 at:

Gallery Salon West
Admiraal de Ruijterweg 9
1057 JT Amsterdam

On Facebook? Here you will find the Facebook event for the Print Pop-Up Salon West.
Add a comment
Details

Hits: 2202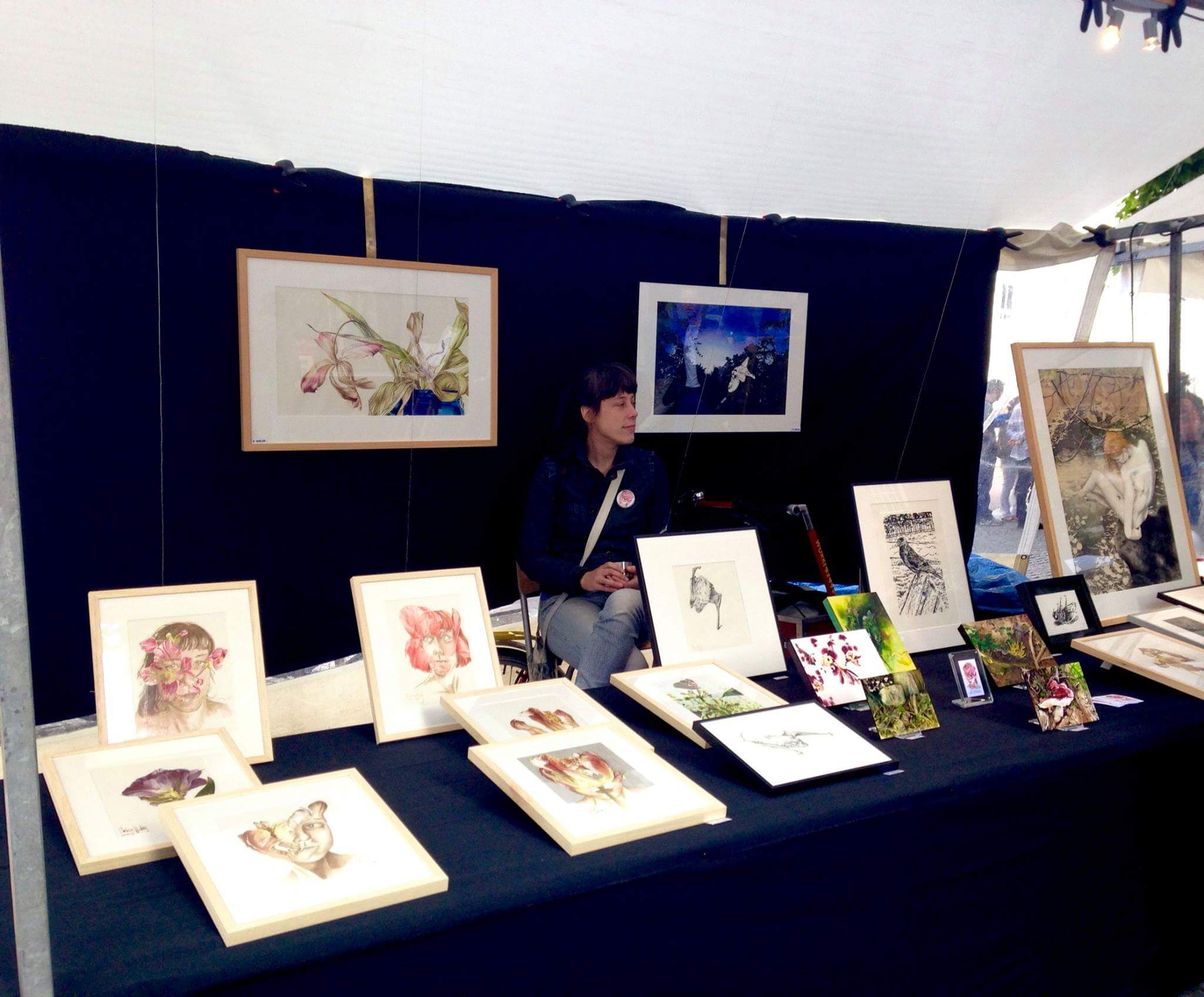 After being away for a while I'm starting again at the artmarket Artplein Spui Amsterdam!!
These are the dates I'll be participating in 2018:
April 1
May 27
June 24
September 16

October 14
November 11
December 9

Visit Artplein Spui Amsterdam every Sunday from 11:00 till 06:30 (February – December).
Add a comment
Details

Hits: 2537



Sunday, November 12th, I will open the doors to my homestudio!

In addition to my latest work, I'm also showing the entire '15 Lino's in 30 Days' series I
made last January.

Come and see how I set up my home so it also works as a studio, have a chat with the artist
(me) and come and see / buy my art 

Feel free to bring someone along and invite others!


See you November 12th between 12:00 and 18:00 hours at:

Sportstraat 43-3
1076 TS Amsterdam
The Netherlands
Add a comment
Details

Hits: 2926