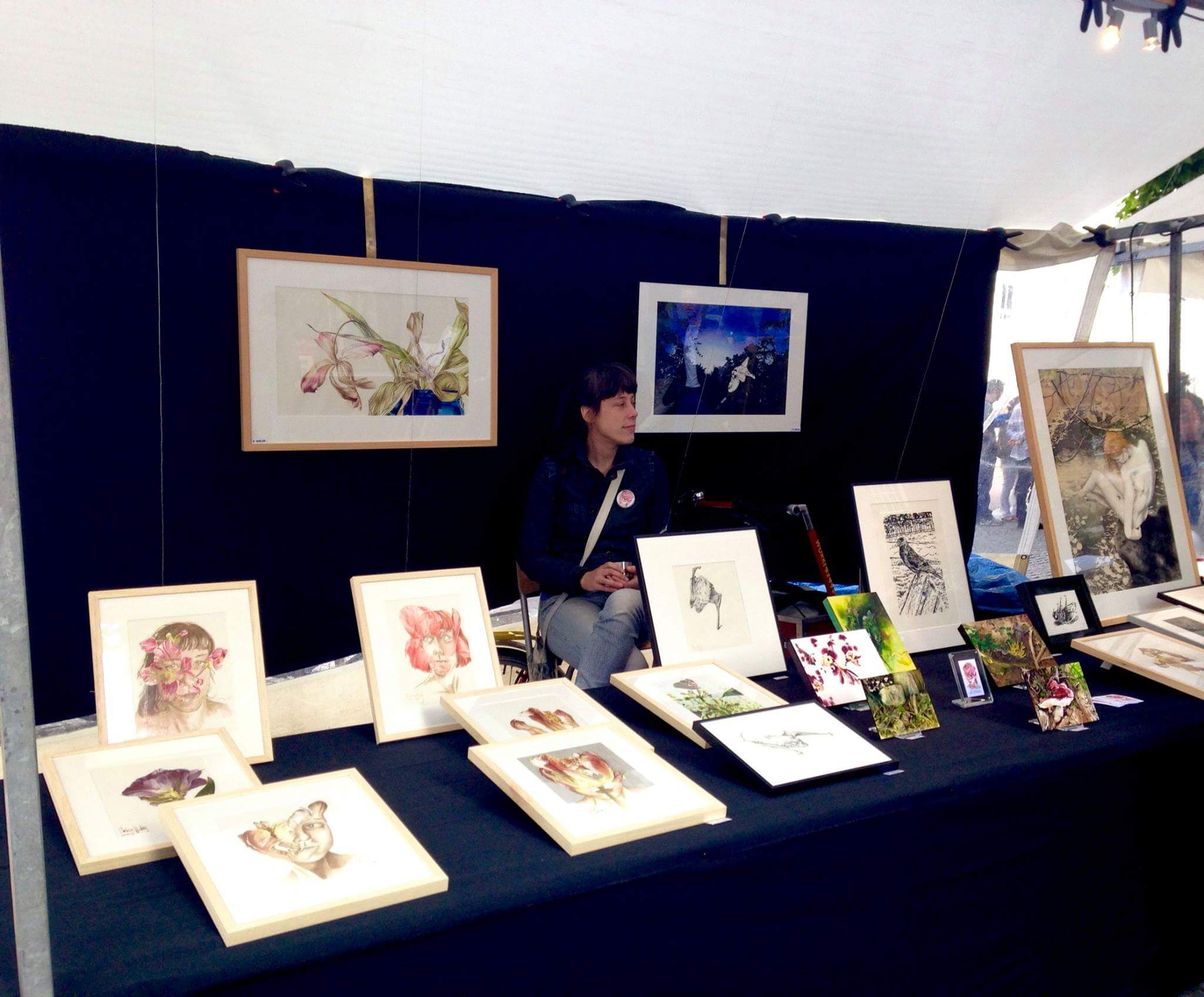 Me at Artplein Spui Amsterdam in 2016
After being away for a while I'm starting again at the artmarket Artplein Spui Amsterdam!!
These are the dates I'll be participating in 2018:
April 1
May 27
June 24 (stand in, so not definite yet)
September 16

October 14
November 11
December 9

Fun fact: Art Plein Spui Amsterdam celebrates its 30th birthday this year and I'm sure
festivities will happen 



Visit Artplein Spui Amsterdam every Sunday from 11:00 till 06:30 (February – December).
Add a comment
Details

Hits: 266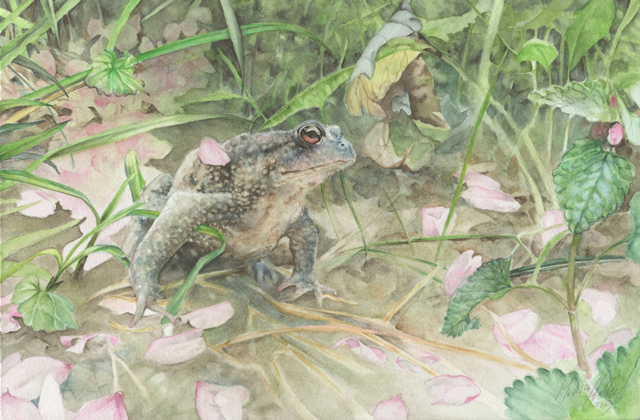 Toad with Cherry Blossom Petals, 2018, watercolour, mounted paper on wood, 20 x 30 cm

This January I wrote a blog about mounting watercolour paper on a wooden panel.
In February I wrote a blog about how I had started painting on the panel and now in March
I'm writing another a blog about the panel letting you know it's finished.

Last year I made 5 watercolour miniatures on Ampersand encausticbord. In 2016 I made my
Flower Portrait series which were a combination of bistre with sometimes ecoline
or watercolour. In the past I've been drawing in bistre a lot but always combining bistre with
Indian ink, soft pastels or Derwent Inktense pencils.
This toad is my first detailed watercolour project of this size (20 x 30 cm) and I loved
every moment working on it.

Sure, there were moments of procrastination when I was nervous about how to go on but it
got never frustrating.
Working on this project I fell in love with the medium of watercolour (combined with the
paper being mounted on a hard surface) so you will see plenty more in the near future!
Add a comment
Details

Hits: 285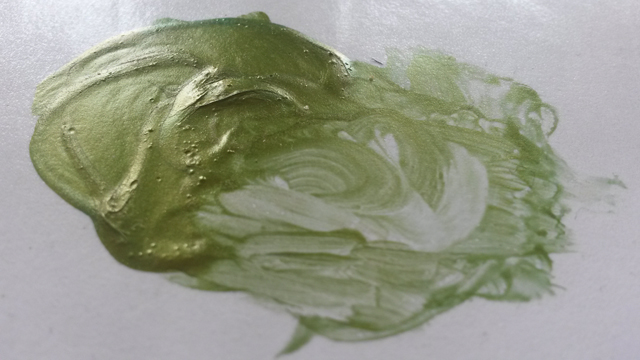 Last week I spend working on a commission which I can't say anything about just yet.
The art I made is a present for someone I know whom in theory could read this post so I'm not
saying anything until the present has been received.
The only thing I will share is that the blob of paint in the picture above is a mixture of
Marabu's Metallic-Liner Metallic-Olive and Metallic-Dark Green and was used for the said
commission.
Add a comment
Details

Hits: 317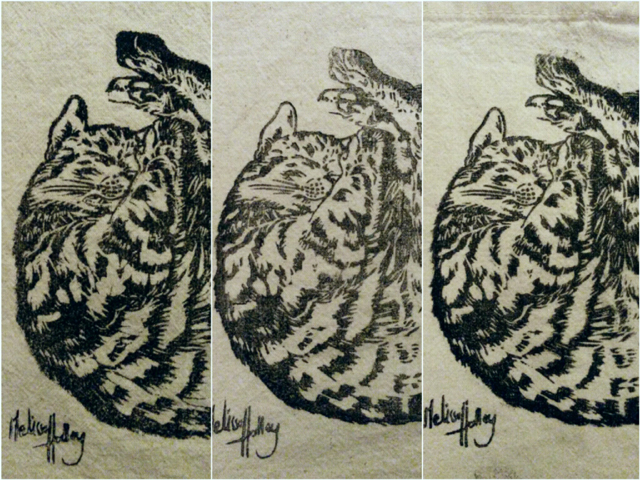 (left = water-based, middle = oil-based first try, right = oil-based second try/ different ink)
Last week I asked for your advice, through this blog but also Instagram and Facebook (on my
personal account which is Dutch). I got a lot of reactions and I got very good advice.
Thanks to everyone who took the time to respond!
Most people voted for the water-based print simply because it's darker. So people chose
clarity above detail.
The voting didn't change my mind, I still prefer the detail of the oil-based print but now that I
know the preferences of others I'm going to continue experimenting with different kinds of
oil-based inks and make sure to end up with a nice dark print. Hoping to achieve both clarity
and detail.
Last Thursday I made a print using a different oil-based ink and got a wonderful dark and
detailed print. Before I go on and perfect the printing process I need to see how it holds in
laundry.
For now I'm still waiting for the ink to dry which takes a lot more time compared to a
water-based ink. Fingers crossed it holds!!
Add a comment
Details

Hits: 349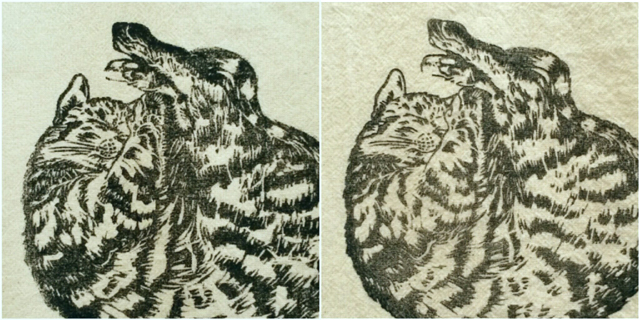 (left = water-based, right = oil-based)

Next to my job at Van Beek Art Supplies, my weekly bug stamp, my watercolour
experiment on panel and the start on a new lino print I've been working on another experiment:
printing on textile!
I've been using my Sleeping Cat lino from last years' '15 Lino's in 30 Days' project.
Next to just trying things out by myself I've been reading a lot on the internet too.
The problem I'm running into is that most favourite brands I read about are not available
in the Netherlands and having it shipped here is a bit too expensive for me right now.
A lot of people use Permaset Aqua which is actually made for screen printing but lots of
people succeed perfectly in using it for printing lino on textiles.
After a bit of experimenting with a soft brayer and a thick layer of Permaset Aqua ink I
managed to get some good prints.
But the thing is I also did some prints with some leftover etching ink and I like those
results much better!
As you can see on the picture above, the water-based Permaset Aqua print is much cruder than
the print next to it which is printed in oil based ink. I've read more complaints about this on the
internet. Somehow the results with water-based inks in general are always a bit crude.
Not a problem when your design has big shapes but my prints are mostly quite delicate.
And now I'm puzzled on how to continue next.
Do I continue with water-based ink which has a cruder end result but is set after ironing or do
I go for the nicer print which I fear will remain vulnerable for solvents like white spirit.
I tend to go for oil based because it's more beautiful and I must say next to my studio
clothing none of my textiles ever had a collision with white spirit or any other solvent…
What do you think?
Add a comment
Details

Hits: 317